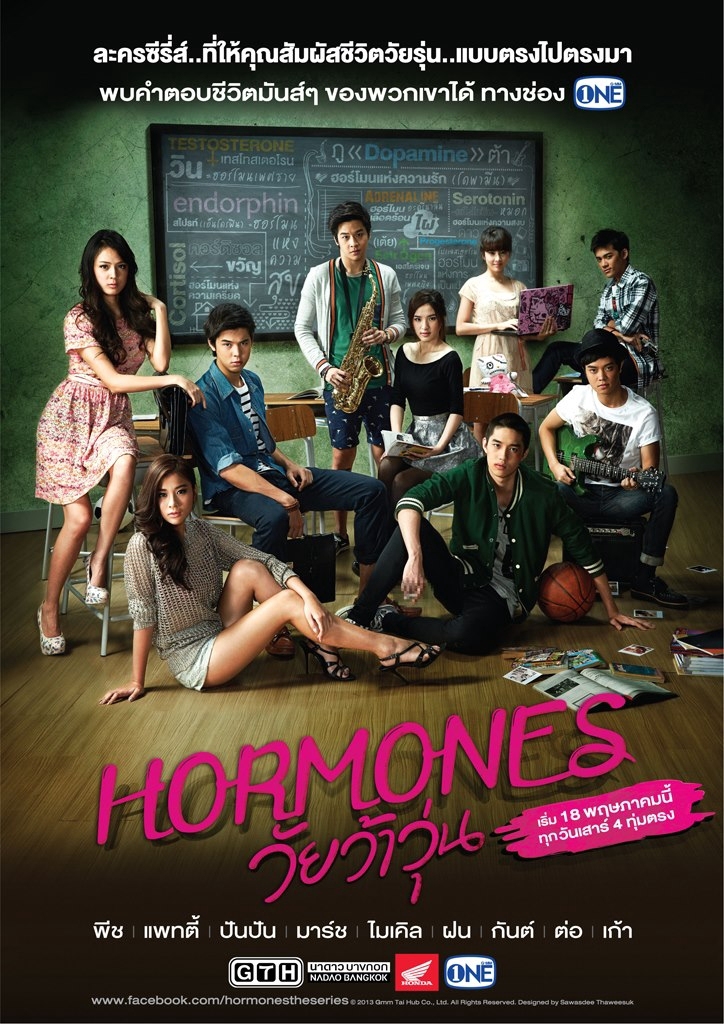 Hormones (2013)
This drama features issues and experiences of Thai teenagers in high school such as relationship, sexuality, sex, bullying, school gang violence and substance abuse. Family issues are also gradually revealed as the series progresses.
Related Content

Native title:

Hormones วัยว้าวุ่น

Also Known as:

Wai Wa Wun; Hormones: The Confusing Teens; Hormones The Series; Hormones: The series.
Halloween Edition: the Spine-chilling Asian Dramas
Are you getting into Halloween mood and looking for some chilling and spooky ways to spend your dark and creepy nights? Check out these Asian features that will make you look twice over your shoulder.
Overall

9.5

Story

9.0

Acting/Cast

9.0

Music

9.5

Rewatch Value

8.0
Guys I'm gonna get a little -maybe, too much- nostalgic while writing this review... So here I go!
Ok, let's talk a little bit about the story:
It mainly focuses on the relationship of nine students from the fictional Nadao Bangkok high school where they course 11th grade.
The drama tells us several stories step by step, focusing the attention on every character and not giving too much importance or relevance to
read more
an specific one.

Something that I really loved about this drama is the pace it follows. It is divided into 13 episodes but each episode tells a different story focusing in one or two and sometimes 3 characters per episode and their individual stories. Of course it also follows a main-central story but what makes this drama so good is each character and what they have to face, we'll encounter several teenage problems like sexual orientation, confusion, sex, pregnancy, first love, alcohol, parties, school, stress, family, future, friendship, love and first times... For example the first time going to a concert or joining a band or the first time having sex or falling in love, the first time cheating on a test and so... And, who didn't have a "first time"? We all had a first time doing whatever, so we'll be able to relate with the characters.

The reason why I loved this story so much and the reason why you'll probably love it too, is that we can identify with the characters. When I was watching the drama I was all the time like "omg I already lived this", "I did this too when I was at school" or -I also was in a band-....This drama manages to connect with the viewers because of that.

Hormones undoubtedly took me 4 years back in time, the time when I was still 16 years old and was at my last grade at school and everything was new to me... *sigh* My teenage days...
This show put a smile on my face all the time, and sometimes it almost led me to the tears, I remembered my first time going to a concert with friends, or my first time falling in love, and the exciting feeling of experiencing something new, the feeling of growing up and the feeling of getting mature and independent and also the pain of that process... This drama made me realize how beautiful my teenage years were and how much I enjoyed them, and I'm sure it will cause the same effect on you.
Overall

8.0

Story

8.5

Acting/Cast

8.5

Music

9.0

Rewatch Value

7.0
First I need to say that it was not as disturbing or provoking as I thought it would be and that's why I could enjoy it even more, for example I think Gloomy Salad Days which deals with Taiwanese youth ( basically same theme as Hormones) with their own difficulties and issues was way more provoking and darker but it was less enjoyable not because it was more somber but because the
read more
characters were not enough developed which is not the case with Hormones, we got to see them evolving and see them making their own choices, changing and trying to becoming a better person and In GSD we don't see that unfortunately.
Plus I need to say that every character has its own appeal and no one has more screentime than another and that's cool, cause generally it's not the case. And also I have to say that it was a very addicting drama, I just couldn't stop watching it and always wanted to see the next ep.

Of course this drama is for a mature audience but in my opinion everyone above 13 could watch it without problem but I would rather watch it alone than with someone though ;D

The characters Honestly they are all relatable, we all have experienced something similar, especially family or friendship issues and I loved seeing how they were constantly dealing with their main family issues while being a student and trying to hide their problem to others.
I have three favorite characters:
-Tar ( the Guitarist) he is so kind, funny, mature, adorable and most of all carefree but not in a bad way, then
-Toei the girl who is simply normal and whom many other girls of her age can relate too, me first and that's why I love her the most, she's normal and a bit closer to the guys than the girls probably because sometimes it's easier talking with guys and I can totally understand that and for me she was so cute with Tar, I shipped them so much together,
- Kwan is my third favorite, the most intelligent girl of the school, very mature who always says the right things to the right person, who cares a lot about friendship, always there for her friends but also a very sensitive and I love seeing that despite being a brillant student she has her own flaws and shows them to others cause no one is perfect on this earth.

Other 6 main characters were interesting too and I love seeing their development as well especially Sprite's character who maybe grew the most throughout the show, then Mhog and Pu who is very conflicted about his feelings and also Win who's a very tortured soul I felt so bad for him in the end and at least for him I have to watch second season cause I can say everything I want about him, how irresponsible, brainless and unsensitive he can be, he is very lonely and I think he needs more support but for that he has to change too anyway even if at first I did not like him and couldn't understand all the fangirling about him I admit that his character is really well written and also quite intriguing.
Others were present too but I don't have special feelings for them (Phai & Dao), simply their characters were less interesting for me.

I totally recommend this drama not necessarily to everyone but for those who need change and want to watch a mature drama about youth and the obstacle teenagers have to overcome.

My last words will be for the OST which I simply loved, the BGM are so good especially the opening theme, I'm just so sad there's one instrumental I love but I can't seem to find it and I think I won't be able to find it either, and I love the ending song so so entertaining <3