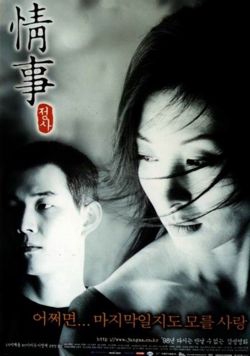 An Affair

(1998)

Seo-hyun is an ordinary housewife in her late thirties with a ten year-old son and a successful architect husband. For Seo-hyun, life is a series of banal routines, but she is well provided with upper class comforts. Her sheltered life is suddenly threatened with the appearance of U-in, her much younger sister's attractive new fiance. U-in approaches Seo-hyun and attraction evolves into a passionate affair. Seo-hyun is aware that falling for the read moreyounger man will destroy her and her family, but she cannot help herself and the new feelings that are stirring within...
Native title:

정사

Also Known as:

Jung sa
Overall

10

Story

10

Acting/Cast

10

Music

8.0

Rewatch Value

9.0
This was one of the few korean movies of the 90's that I watched but I must confess I really liked it.
The plot was very credible such as the characters. The love story between the two forbidden lovers is amazing and very realistic which only made me like the movie more.
It may be a little slow in the beggining but as we go into the movie it gets better and
read more
more interesting, leaving you wanting to know the ending of the couple. The sensual scenes are very romantic and sexy at the same time (at least I thought so).

I noticed the characters growing in me as the movie advances, and I came to love the main couple (even if they don't always make the right choice - in my opinion). Even though the ending is not perfect I was very satisfied with it.