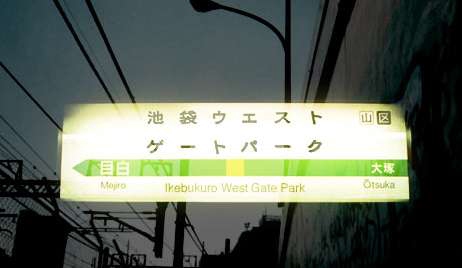 Ikebukuro West Gate Park (2000)
This story follows a young man named Makoto who lives in Ikebukuro West Gate Park, an area known for youth delinquency and gangs. In fact, one of Makoto's best friends from high school, Takeshi, is the "king" or leader, of one such gang, called the G-Boys. Makoto is known for being tough and smart, and while trying to solve the mystery of a friend's death, he finds himself a somewhat unwilling helper read morein many mysteries and problems of IWGP inhabitants. All the while, gang tension is mounting between his best friend's gang (which Makoto refuses to join) and a new gang, the "Black Angels."
A Stalker's Guide to Kubozuka Yosuke
Being famous for his eccentric, unique and weird choices of roles, this guy has climbed up to the top and became one of the most recognizable Japanese actors ever. And I'm gonna show you why he is one of the finest out there.
Overall

9.0

Story

9.0

Acting/Cast

10

Music

7.0

Rewatch Value

8.0
In the beginning I started watching IWGP because Yamapi was in it - But after only a few minutes I had almost forgotten about him.
The characters in this drama are very believable and well-done, they are realistic and have their good and bad sides.
I like how important friendship is for the story, much more important than the romance or violence.
The acting was really good, especially in the dramatic and
read more
fighting scenes. The actors looked like they were really in character and I never thought someone looked awkward, when they weren't supposed to.

The music wasn't outstanding, but it was there. I didn't pay much attention to it and felt like it wasn't really important.

The story itself was great, interesting and full of emotions. I never thought an episode was dragging, though there were some that confused me in the beginning.

You do notice that the drama is a few years old, though, but I don't think it's a bad thing.

I recommend everyone to watch this and give it a try because I thought it was great.
Overall

8.5

Story

8.5

Acting/Cast

10

Music

8.5

Rewatch Value

7.5
I try not to be biased, but honestly, I love anything Nagase Tomoya is in. In all the dramas I've seen with him, he has not disappointed me, and IWGP is no exception. Putting my feelings aside from Nagase for a minute, I can honestly say that this drama was very good. I loved the aspect of different ppl going to Makoto for help solving crimes that they can't go to the
read more
police for. I loved the underlying themes of finding what your good at and self-confidence (it's subtle but it's there). I did not like the main girl at all, from the very beginning I thought she was annoying. I loved the themes of friendship and loyalty.

MDL did a good job at summarizing IWGP, but honestly, I thought this drama was gonna be so cliche. Like I thought there would be a fight between Makoto and his best friend for the leadership spot of the gang, but no such thing happened. Makoto's best friend, Takashi, has his back throughout the entire drama. Not only does Takahi love Makoto, but everyone does. This character just has so much swag I can't take it.

There's also kinda sorta a love triangle, between Makoto, the main girl, and some other girl. I definitely liked the other girl better, but w/e. I'm not even upset with the ending because things get wrapped up, all questions are answered, and it all just ties together very nicely.

I wouldn't call this a detective drama to be exact, but if you like those types of dramas (the types where the characters are trying to figure out who committed a certain crime), u like laughing (it was kinda funny, u know anything with Nagase will have u laughing), u like dramas with friendship and loyalty, u may like this one. I'd definitely recommend, although some may not like the style/quality since it is a kinda older one (2000 I think). Of course the acting/cast is on point. And the music is pretty good (at least it is to me). The only character I didn't like was the main girl, I found her very annoying and self-centered. But that didn't stop me from enjoying the drama. It's good, definitely worth a watch.