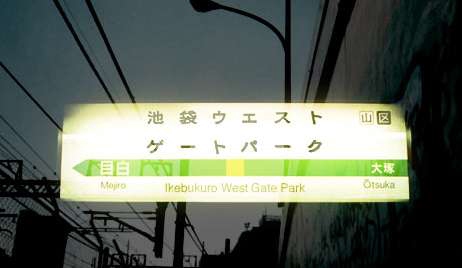 Ikebukuro West Gate Park (2000)
This story follows a young man named Makoto who lives in Ikebukuro West Gate Park, an area known for youth delinquency and gangs. In fact, one of Makoto's best friends from high school, Takeshi, is the "king" or leader, of one such gang, called the G-Boys. Makoto is known for being tough and smart, and while trying to solve the mystery of a friend's death, he finds himself a somewhat unwilling helper read morein many mysteries and problems of IWGP inhabitants. All the while, gang tension is mounting between his best friend's gang (which Makoto refuses to join) and a new gang, the "Black Angels."
Overall

9.0

Story

9.0

Acting/Cast

10

Music

7.0

Rewatch Value

8.0
In the beginning I started watching IWGP because Yamapi was in it - But after only a few minutes I had almost forgotten about him.
The characters in this drama are very believable and well-done, they are realistic and have their good and bad sides.
I like how important friendship is for the story, much more important than the romance or violence.
The acting was really good, especially in the dramatic and
read more
fighting scenes. The actors looked like they were really in character and I never thought someone looked awkward, when they weren't supposed to.

The music wasn't outstanding, but it was there. I didn't pay much attention to it and felt like it wasn't really important.

The story itself was great, interesting and full of emotions. I never thought an episode was dragging, though there were some that confused me in the beginning.

You do notice that the drama is a few years old, though, but I don't think it's a bad thing.

I recommend everyone to watch this and give it a try because I thought it was great.
Overall

7.0

Story

6.0

Acting/Cast

9.0

Music

9.0

Rewatch Value

7.0
Story: To say this is from 2000 I was impressed with how not crappy the camera/shooting actually was! Didn't feel like 2000 at all until you say their mobile phones xD haha The story changed constantly in my opinion and something new went on every episode and it finally came together at the end. While the dorama was incredibly funny to me, there were times where I just wasn't interested in what
read more
the actually story was. The ending kinda ticked me off as well with everyone being 'suicidal'. I HATE what the story did to Shun's character though. Doramas now a days very much try to keep the sex topic quite but I liked how more open about sex this dorama was. It was refreshing and it was overly stated nor a constant theme or being spoken about.

Cast: Amazing, great cast. I was shocked to see Yamashita pop up and I have to say, his acting here is the best I've seen of him since... Nobuta wo Produce. So to me he was better at acting when he was younger compared to how he is now, but that could also be to do with the lame characters and doramas he does now... anyway, yeah loved the cast! Nagase Tomoya only seen him in My Boss, My Hero. Definitely plan to watch more of his stuff now! He looks good in a cop uniform too! haha Kubozuka Yosuke is another I've only seen one or two times and defo want to see more of! Sato Ryuta awesome as always and seriously hasn't changed in 13 years xD I normally see Takahashi Issei do quite everyday characters and I liked he was a hacker in this with a MASS of hair xD WAIT... Oguri Shun was in this?! o_O I do not remember =/ Tsumabuki Satoshi another I rarely see and plan to watch more of. I liked Watanabe Ken in this dorama also!

Characters: Where to start... Favourite characters: Makoto was cool and as the main character you gotta be interesting which he was and he has a nice stomach! Yokoyama - I love his corruption and the fact he doesn't play the 'good' cop that you seem to just see in doramas now these days, The King was AWESOME I think he was my favourite, crazy mother chucker! Kazunori was enjoyable when he popped up. Loved Shun and that he was quiet and has this side of him that was interesting even when quiet! Masa was adorable and fun! Yamai was interesting til he died his hair dark then the rest of the story he wasn't interesting. Characters I hated: Rika, glad she left the show early, and Hikaru - words can not express how much Hikaru annoyed me. I wanted to kill her and he VOICE was hella annoying! Shame the story didn't go the way I wanted with her, grrr...

Music: LOVED the opening theme. Loved Makoto's ringtone was awesome, I want it as a ringtone! The soundtrack was reminiscent of Wong Kar Wai's 1990's film music which I loved so naturally loved this soundtrack =]

Overall: I enjoyed it, sometimes didn't care about the story line and some parts of the story I really didn't like and had that one hella annoying character that I wanted dead from the moment I saw her. But besides that it's interesting, funny, great how the story comes together in the end, it does feel mysterious at times too! Now to watch the SP xD