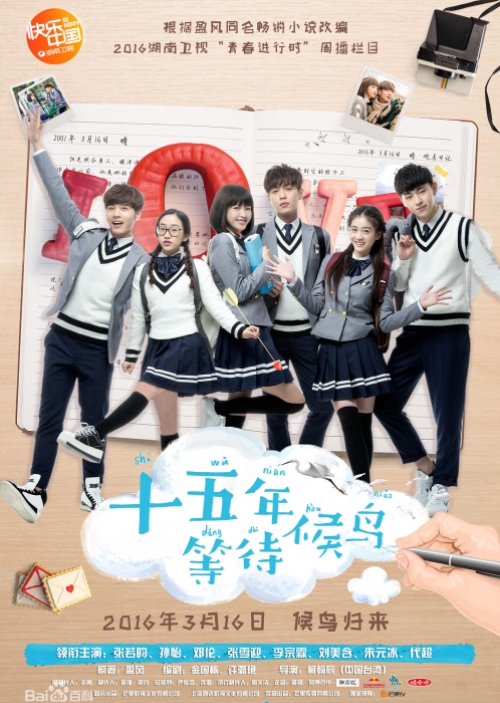 Fifteen Years to Wait for Migratory Birds

(2016)

Our hero and heroine meet each other when they are fourteen and she has a crush on him for the longest time. However, she does not confess due to her unattractive looks leading to her low self-esteem. And just like, days become months, and months become years. She stays beside him as his best friend for fifteen long years.
Native title:

十五年等待候鸟

Also Known as:

Shi Wu Nian Deng Dai Hou Niao; Fifteen Years of Waiting for Migratory Birds;
Overall

7.5

Story

8.5

Acting/Cast

8.0

Music

4.5

Rewatch Value

6.0
I finished this drama last week and I really really enjoyed it especially:
-The friendship part which was so pure and beautiful between: Li Li, Shang Xuan, Li Jun and Daniel.
-Li Li's love for Migratory Birds (which actually was what I liked the most about the drama and also the reason why I got interested in watching it).
When I started 15YWFMB I didn't expect anything from it but I immediately
read more
found it pretty original especially Li Li's hobby, her love for the migratory birds and how it's linked with her love for Shang Xuan, so wonderful and subtle metaphors about love <3

First and foremost, I recommend this Chinese drama to everyone especially to those who want to watch a good Chinese modern drama with well written and developed characters, I've always wanted to find one which would impress me when it comes to character development and definitely it was a success for me. On the surface it's a pretty relaxing drama but as the story progresses I could see that it was more complicated than it first seemed, Ok I did guess at some extents how it would end but definitely I think it was well done. I'm just really disappointed by the ending or should I say the way they ended the drama.

Our leading lady really grew on me all throughout the drama, I could totally see myself in her and I had similar experience as her during my high school years (so it was easier for me to connect with her character), how she was bickering all the time with Shang Xuan, they did not start their relationship on the best terms but they ended up appreciating each other, and I'm sure many of us had a similar adventures during adolescence.
I love so much how their relationship is evolving in the drama, how since the beginning she loved him and kept her feelings for herself and how everything was developing slowly but surely in such a mature way , all of that was done so well. In a few words I would say LiLi is a really responsible, sensitive, smart, selfless and kindhearted girl (became a wonderful and elegant young woman for whom I only have admiration), she always stays true to herself and is always there for her dearest ones, definitely the best friend/family member we can ever have.

Shang Xuan is such a lovely and dependable man, he had his issues and sometimes he could be odious and all of that I understood it because he had his reasons to act the way he did but just like Li Li when it comes to friends and family he would do anything<3

I love other characters too particularly Qian Ren, sincerely this guy is such a sweetheart that sometimes I didn't know if I should ship Li Li with him or Shang Xuan, really too hard to choose only one. Two handsome, reliable, lovely men for one amazing and wonderful woman, I guess that for many other viewers it must have been hard to choose their side, at least for me it was hard <3

I truly loved both leading actors and oh why is Deng Lun (Qian Ren) younger than me just why ? Also I need to say that I'm not into Love triangle and I hate that so much but here so unexpectedly it was not exaggerated nor complicated maybe because all three characters (Li Li, Shang Xuan and Qian Ren are very understanding and mature persons).

Supporting characters were so adorable too and they had their own stories so that's a very big plus, it was good to see that the writer didn't focuse only on Li Li's relationship with Shang Xuan and Qian Ren and showed more of other characters like Li Jun and Daniel, both really caring, honest and loyal friends.

I read some comments about Han Yi Chen being a bit too mean or something like that but honestly I think she was a pretty fine rival to Li Li, I never hated her and thought she was too bad though of course as a rival she was very selfish and jealous of Lili. By the way it was kinda annoying seeing that they put so much make up on the actress's face to make her look older, actually it didn't work in my opinion as it seemed too forced.

As for my rating I decided to go with a 7.5 and it might sounds weird I'm not giving a higher rating when I enjoyed the drama this much however though it's a really great drama and I don't have complaints about it (well only on certain aspects such as the ending, some turn of events which did bother me a little bit but nothing too disturbing, the OST= almost non-existent and not my taste at all) so I just can't give more. Of course I definitely recommend it especially for the reasons mentioned above plus the actors did a very decent job though some of them lack experiences. I found two actors I would definitely stalk : Sun Yi and Deng Lun as I loved their portrayals of Li Li and Qian Ren, both being my two fave characters of the drama as well <3
The drama itself didn't give me goosebumps nor made my heart palpitated hence this rating.
Overall

8.5

Story

8.5

Acting/Cast

8.0

Music

7.5

Rewatch Value

7.0
"Every person has a migratory bird in their heart. Looking at this feather you can imagine that bird once appearing in your life." – Li Li. This is just one of many beautiful quotes that you'll come across while watching this gem of a drama. It really caught me by surprise how deep and somehow poetic the dialogues were, considering the premise of the show being a high school drama. I was
read more
also amazed how beautiful this drama was shot, especially those scenes at the reed field were stunning.

What makes this drama so special, is definitely the group of four friends that we follow through their years at high school to college and their first job. All characters were well-written and as they struggle through life and face many obstacles, they slowly grow up, finding their own path in life. The female lead, Li Li, is one of the best female leads that I've seen so far. Pretty, smart, kind and strong, yet understanding and humble, she's just the type of woman that guys would fall for and girls would want to be friends with. It's really such a nice breath of fresh air to find such a lead aside from those annoying, noisy and clumsy leads that we see a lot in C-dramas. Since she's very thoughtful and eloquent, her talks are filled with quotes and wisdom which actually makes all of her scenes a delight for the eyes and the mind.
The male lead, Pei Shang Xuan, is the kind of friend that every girl wants to have in her life: caring, reliable and loyal to the core. Though a little too confident and impulsive at the beginning, he grows up to be a wonderful person, wanting to succeed on his own and for the sake of the person that he cherished the most. Unlike most other dramas the second male lead in this drama is absolutely on par with the first lead. He cares for her, but also has his pride and wouldn't follow her blindly if not needed. Both are very supportive of her, always wanting to bring out the best of her and wishing for her happiness. They would do anything for her, but never ask for anything in return, because they knew she would repay them ten times as it's simply in her nature to do so.
I also liked all the side characters. They fitted perfectly in the storyline, even the changing love interests of our main leads were interesting personalities that you'll find likable. There are no evil characters or whatever. Even if someone does something bad and regrettable, you know the reasons behind their actions and can understand them at some point. The only thing that actually bothered me was the ending. I also find it to be rather disappointing, not because of the outcome, but the way how the last episode was wrapped up.

All in all, it was still a very enjoyable watch. I would highly recommend it to all of you, who want to see a coming-of-age drama that has more depth than your usual fluffy high school rom-com with lots of eye candies, amazing dialogues and a lifetime friendship that goes under your skin.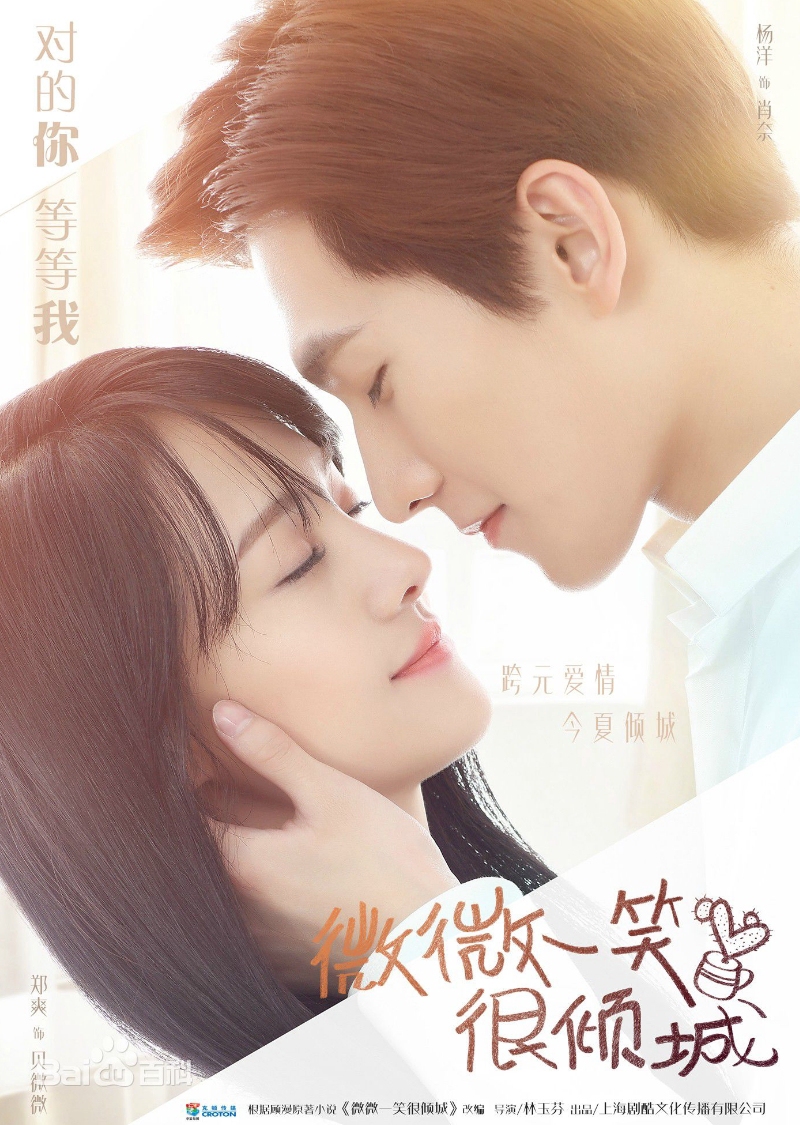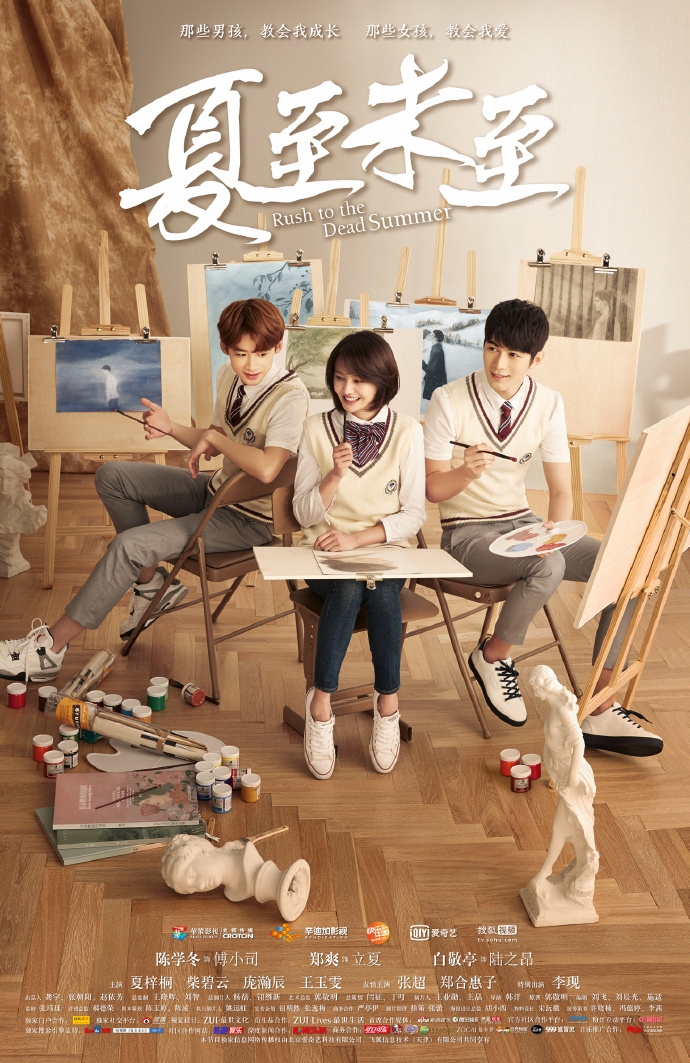 Both are school dramas which have several enjoyable side characters. The Leads portray their youthful characters very well in both, even if they are actually older actors cast to portray teens.. I guess that helps with time jumps for when they are young adults and no longer students. The story in FYTWFMB also follows the characters as young adults and the drama in their close circle of friends and frenemies. Both have vibe of friendships and relationships over time. Also romance.