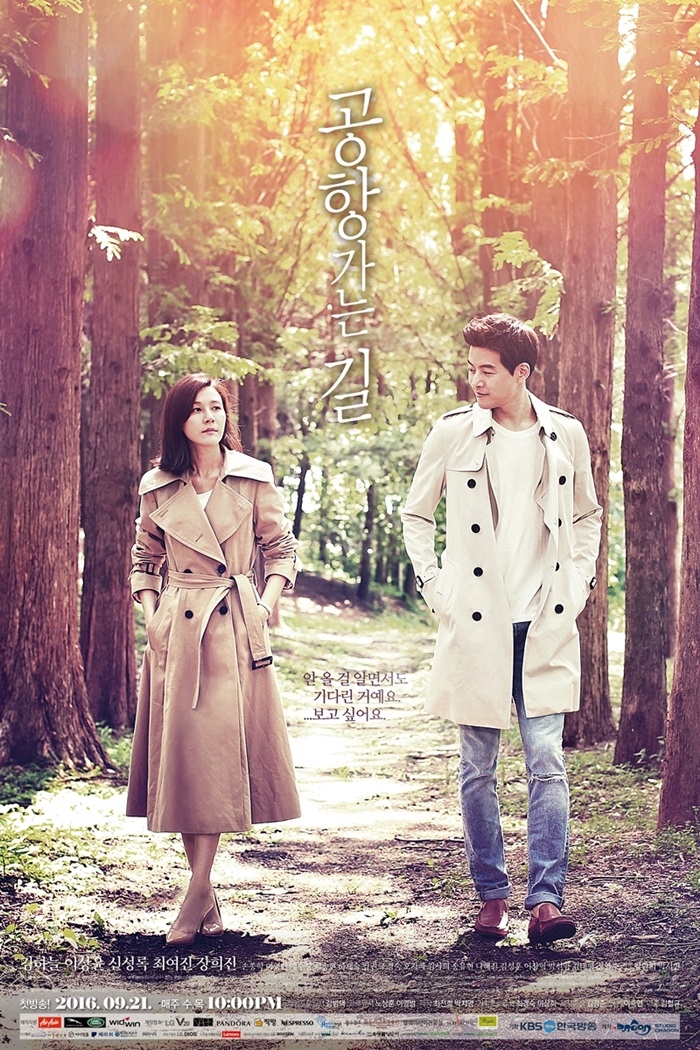 On The Way To The Airport

(2016)

Choi Soo Ah works as an assistant purser at an airline. She has been working there for 12 years. Her husband is a pilot and they have a 12-years-old daughter. Choi Soo Ah thinks she is content with her life, but she meets Seo Do Woo. Her life changes. Seo Do Woo works as a part-time instructor in architecture. He has a bright and warm heart. He is married and they have read morea daughter, but a shocking incident occurs. Due to this, he becomes confused and Choi Soo Ah comes into his life.
Native title:

공항 가는 길

Also Known as:

Gonghang Ganeun Gil; Going to the Airport; Road to the Airport;
Overall

8.5

Story

9.0

Acting/Cast

8.0

Music

9.0

Rewatch Value

8.0
On the Way to the Airport in a unique drama.
In the ocean of sugary sweet love stories with clichés like accidental kiss scenes and drunken confessions or over the top makjangs with evil in laws and memory losses, I found a drama that is slow paced, mature and tackles some heavy matters with a very realistic approach. I thought it's impossible to show the story about two people finding love outside
read more
their marriage in the world of a very conservative Korean television, so with every episode I watched, I was growing more and more surprised that the drama didn't change its tone in any of the typical directions, so either overly melodramatic or exaggerated comedy. It finished just as it started: calmly, simply and without big declarations or unexpected plot twists. I agree that the last two episodes weren't as well-thought as the first part of the drama, but considering this sudden decision to cut it by 4 episodes, I think they did an exceptional work anyway.

I liked the cast. Even though I think that Kim Ha Neul is not a greatest actress, she played the role of a timid, dependant Choi Soo Ah perfectly. She and a male lead, Lee Sang Yoon, had an amazing chemistry. I don't know how they did it, but every time they touched or even so much as looked at each other, you could feel intense feelings between them. However their chemistry was very mature and perfectly fit for the flow of the story. The rest of the cast was also very good, I especially connected with Soo Ah's best friend Mi Jin, who was flawed, but that's what made her very human and likeable.

To sum it up, I really loved On the Way to the Airport and I wish there were more dramas like that. I loved its simplicity and the courage to set the story around subjects that are more often than not considered forbidden. If you're looking for a break from typical tropes, you won't be disappointed.
Overall

8.5

Story

8.5

Acting/Cast

9.0

Music

8.0

Rewatch Value

6.0
Who knew forbidden love could be so romantic? On the way to the airport, or the way i want to see it, on the way to happiness was simply beautiful and so elegant despite the controversial concept it is about.
Let me break it down for you, the drama is about 2 beautiful loving soulmates who, by the time they meet, they already have settled down for the wrong people. The drama
read more
is about true and fated love, but in its core it talks about putting yourself, your needs first and choosing your own happiness over everything and everyone else. We deserve to be happy and nobody is entitled to strip us of this right!

Yes the drama, on the surface, presents 2 married individuals who, because of different personal circumstances, fall for each other. Don't let this drive you away from this drama. The affair is introduced in the most romantic way possible without being glorified. It's not filthy in any way, quite on the contrary i'd say.

What made the drama stand out was easily the chemistry between the leads. Not the best i've seen but enough to charm you and make you get lost in the sparks. However, the best of the drama for me was the characterization. Seldom do we see such 3D, deep and well-rounded characters that feel like real people. This is one of the dramas that you have to read between the lines to properly comprehend that is going on and why. Many's the time i felt frustrated by the characters' choices and decisions, but this is human nature, scarcely logical sometimes. Moreover, i loved how even the "evil" characters had many layers but if you tried walking in their shoes you could understand where they were coming from, even if you still disagreed with their course of action. Good writing.

Sadly the drama was cut 4 episodes shorts and significant part of the storylines along with some characters were left unexplored. Still the writers did their best to complete the drama is a fulfilling way.

The drama is so natural, based completely on emotions and feelings, the plot devices for the story to unfold are strong and it is never really dragged or anything considering you're into romance and melodrama. However, there are certain drawbacks that refrain me from giving it a higher score.

First and foremost, i feel that the writers were really scared to actually go for it. The build up is there, the reasons, the excuses, the plot that is getting thicker and thicker, the chemistry which is sizzling but there is no climax. Generally the drama lacked the intensity that was needed sometimes, but the drama was special because of its mellow and calm nature. That being said, this aspect of the drama may make some viewers feel a little bored.

Story wise, the drama was solid, i only wished it wasn't so subtle when it came to the affair and also that they wouldn't deem some characters so evil just so they make other character look favorable. Too fake in my opinion.

Continuing to the acting, the overall experience was quite spectacular.
I've seen Lee Sang Yoon in other roles, wasn't impressed. Apparently i hadn't seen his flawless puppy eyes that he so effortlessly demonstrates here. Emotional and passionate, he pulled of his character impeccably.

Gotta hand it to Shin Sung Rok, for being a complete asshole (jn yet another drama i've seen him in). Takes talent to become the perfect antagonist and act like a complete jerk so realistically. His character was rather unemotional and shut down. It takes talent to act as an unemotional jerk and still pour part of your soul in the role! Luscious performance. An actor for me to look out for.

My personal favourite is, hands down, Choi Yeo Jin; the actress deserves more credit, she's been amazing in every project i've seen her in, but she shines here. Loved her character and the friendship subplot that she introduced, she was strong and intelligent and yet so loyal and dependable. Relateable and loveable.

My only issue was with Kim Ha Neul. Not that she was bad or anything, but i did feel that she overacted a lot especially while crying to the point it was fake and, moreover, i couldn't really relate to her in certain scenes while the plot was crafted so conveniently that anyone should have been able to excuse her and identify.

Overall, this is a good watch. Considering this is a melodrama it's not overly heavy, just the right amount. I'd recommend this to melodrama and especially romance fans. Be warned that the romance is not cute and fluffy here, but it is fullfilling (the chemistry is one you don't want to miss out on) in case you want to see something more "serious" let's say. I doubt i'll rewatch this, but it deserves a try.