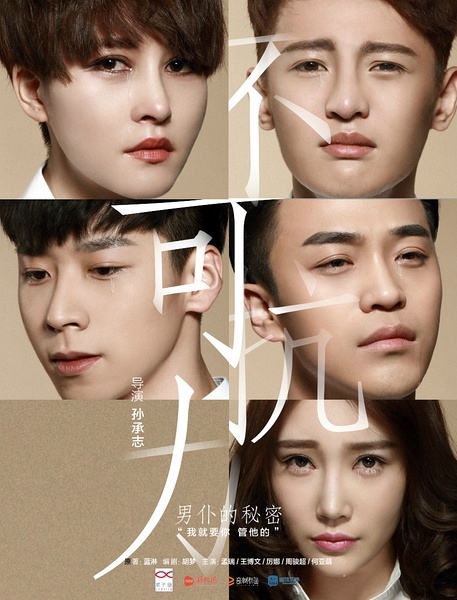 Irresistible Love - Secret of the valet (2016)
When Shu Nian was 12-year-old, he was adopted by Xie Yan from an orphanage. Shu was 5 years older than Xie and he worked as a page boy for him until Xie went abroad to study(page boy: a kind of servants that study and play with master's children). The main story begins after Xie return home when he was 25 years old (Shu was nearly 30). Xie had a slight tendency of read morehomophobia and after he returned home he noticed that Shu was gay. He knew himself was not gay but he cannot control himself, he just fell in love with Shu.
Related Content

Native title:

不可抗力

Also Known as:

Uncontrolled love;
Overall

8.5

Story

8.0

Acting/Cast

8.5

Music

4.0

Rewatch Value

8.0
Although it was too short to develop any deep affection toward the actors, I still enjoyed the plot and characters. Xie Yan is a bit selfish when it concerns Shu Nian, it's a wonder how he was clueless to why he was so possessive. My only complaint is the length, as I haven't read up to inquire if it's based on written work yet. Overall, I recommend watching it.
Overall

9.5

Story

9.5

Acting/Cast

10

Music

6.5

Rewatch Value

7.0
Plot
After 6 years spent in England, Xie Yan (XY) returns back home. He immediately comes to find Shu Nian (SN), who resumes his role of a servant. In a sense, the two revive their childhood days after a long separation. However, SN does not seem happy about XY's return.
What turn will their relationship take next?
Overall, the story was not exaggerated, but somehow emotions are conveyed very well – sense
read more
of injustice, annoyance, care, worry… One can feel them all very strongly during the movie.


Characters
- Xiao Nian - unlucky orphan with a great heart. Very good at hiding his feelings, after years of service he became very proficient at obeying orders, quietly accepting his fate.
- Xie Yan – selfish, dominant, possessive, but deep down also caring.
- Jiang Yao – not shown in great detail in the movie, but seems to fail to understand love.

Great actors, very natural acting.


Music – fitting, but not very noticeable or particularly good.


Other comments
- XY was too dominant, which makes the relationship become abusive, especially at the beginning. However, one might argue that by showing this characteristic so clearly, the movie emphasises that this is a problem.
- The development of their relationship could be shown in more detail and in greater depth.
- Also, the movie contains a really interesting theme of an orphan, who basically becomes a servant to the heir of his adoptive family. The aspect of SN's loyalty and servitude is clearly shown, but maybe this could be expanded upon further.
- Some moments were a little difficult to understand, but that might be due to the quality of subtitles.

Generally, a really interesting and good movie.
Would especially recommend it to those who:
- like BL movies
- are not typical BL audience, but are looking for a romance movie with an interesting plot
- are interested in stories of orphans