If you're still experiencing technical difficulties, please report it
here
.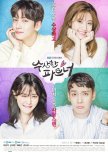 The female leads in both the dramas are weirdos .
The male leads of the both the dramas are prosecutors . They act tough in front of everyone but are actually dorks .
The male & female leads of both the dramas meet each other through a fate .
Both have a lots of comedy but deal with serious cases at the same time .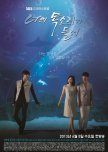 Both have Lee Jong Suk starting in them. Both are about law. Both are made by the same writer.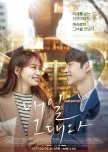 in TWY the future can be changed here the past can be changed thus uncertain ending for the main leads.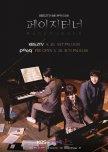 Both has the same screenwriter
Both has the actors Hwang Young Hee, Shin Jae Ha and Kim So Hyun (Guest Role).
The Kim So Hyun character really is looks alike in both dramas, She is a pianist and She has some kind of relationship with Shin Jae Ha character, it's references from Page Turner.
The relationship mom-son (Cha Shik's Mom- Cha Shik) in Page Turner is alike the relationship mom-daughter (Nam Hong Ju's mom - Nam Hong Ju). The son/daughter is a little crazy and the mom is lovely and supportive the son's problems.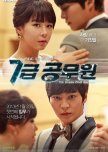 If you like detective series then you also like "7th grade civil servant". A love story of two person who once started to date but some circumstances aparted them away. But but after their Reunion, very interesting love story, detective part waiting for you.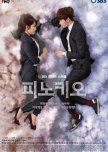 Pinocchio has the same writer and it has fantasy-like story. The writer casted Lee Jong Suk as well as her main lead. The writer tends to write refreshing fantasy stories. If you want to see more of her works, definitely check out Pinocchio.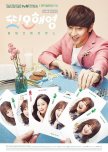 Both are Kdramas where one of the protagonists has foresight: In Another Miss Oh, the hero has deja-vu (Visions/flashbacks about something that is about to happen in short notice) and in WYWS, the heroine has Prophetic Dreams (Dreams about the near future or distant). Both have romance inside a beautiful plot, great actors and soundtrack.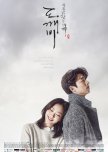 Although these are two totally different plots, the breathtaking aesthetics and visuals seem similar to me in both.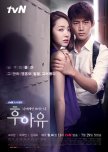 Similarities:
- Both use a supernatural way to solve crimes - and uses this element to make matters more interesting other than dragged out.
- Both share some kind of love triangle. (Have only seen until the fourth episode of "While You Were Sleeping" when writing this recommendation, so I could be wrong.)
- Both share some of the same genres. (Including Romance and Supernatural)
Differences:
- While "Who Are You" is set in the world of cobs, "While You Were Sleeping" is set in the world of prosecutors and lawyers.
- In "Who Are You" the main female protagonist can see ghosts/spirits of their victims while in "While You Were Sleeping" they can predict the future through dreams and strive to change them.