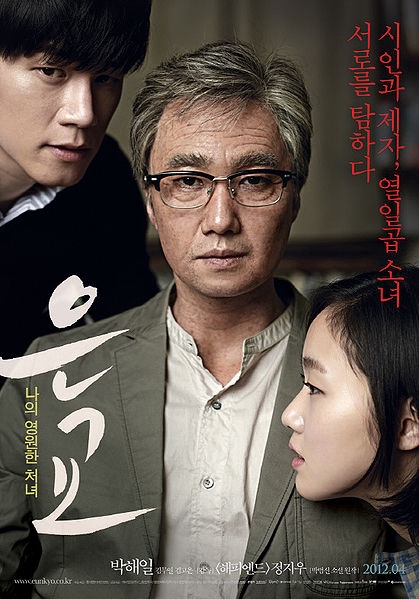 A Muse (2012)
Lee Jeok Yo is a highly respected national poet in his 70s. His thirtysomething assistant Seo Ji Woo has recently published his first book, described as a genre novel with psychological insight, and it has shot to the top of the bestseller lists. Only later will it be clear how great his debt is to the poet laureate. On finding a young high school girl, Eun Gyo, asleep on a chair on read morehis porch, Jeok Yo is instantly enamored and rather than chastising her for breaking into his property, he subsequently agrees to give her a part-time job cleaning his home. As Jeok Yo spends more time in Eun Gyo's company, long-lost feelings are awakened within him, and her exuberance, lust for life, sense of fun and genuine warmth towards him quickly strip the years away in his mind.
(Source: Wikipedia)
Native title:

은교

Also Known as:

Eun Kyo; Eungyo;
Overall

8.5

Story

8.5

Acting/Cast

8.5

Music

7.0

Rewatch Value

5.5
Probably many of those curious about this film are snooping around this review because of some morbid curiosity about the relationship between one 70-year-old man and a student of 17. You want to know how it goes? Well, I'll tell you that it's not so much that kind of film, there are inevitably parts with some sexual charge, but in my case, what I felt after two hours was a sensation of
read more
beauty, spontaneity and, ironically, purity.

STORY:
Of course the premise is as good as controversial: two men who after an hour of film are attracted to a high school student, one more than the other. However, contrary to my expectations, the strongest reason to fight is not the girl but the literary talent of both men. Nevertheless, Eungyo does play an important role, because she is the straw that broke the camel's back (red ink involved, I warn you). And that's very interesting, although a little disconcerting if you expect a film with a strong erotic charge. What this story does have, and is meritorious, is a tour through very realistic and human feelings and doubts.
(Also, brace yourself for some graphic sex scenes)

ACTING:
To be honest, nothing to say "Hats off to you", but I understand why Go Eun received many awards for Best New Actress, I've seen this movie before "Cheese in the trap" (maybe a bad idea) because I wanted to know the actress, and I have to tell you that the girl's talent itself is obvious. Also, Park Hae Il is notable for his portrayal of an old man when he is not old at all.

In conclusion, in my humble opinion, the highlights of this film are the beautiful framings, the morbid-pure relationship between the old man and the student, the obvious talent and beauty of Go Eun, and that the bad things do not happen to whom you imagine (something I enjoyed).
Overall

9.0

Story

8.0

Acting/Cast

9.0

Music

8.0

Rewatch Value

7.0
Beautifully filmed and well written.
I was really surprised after watching this movie because I didn't expect much. I thought I would just skim through it and be like meh but ended up watching the whole thing and even liking it!
First of all, acting is pretty good, these people know what they are doing. All characters are well written, lovable and hateful in their own ways. But I am a little
read more
bit disappointed with the screenwriting in general. I didn't expect this movie to be so black and white about the moral codes.

One of the messages is that love is timeless. I like that message the most. An old man wishing he was young again so he could love freely. It's pretty sad if you ask me, that just because he is old it's wrong to have those beautiful feelings. So he pours those feelings into a beautiful poem which, unfortunately, gets stolen by his student. It's as if his feelings got stolen and sold, disgraced. And as if that wasn't enough the student also steals the purity of EunGyo. He pretty much tramples Juk Yo's heart, smashes it into a miserable paddle. I don't know, what he does is like peeing on his teacher's face after receiving all the teaching and then stealing the rest what he could. He gets totally swallowed by greed. No wonder Juk Yo retaliates in the end, I'm not sure if he really hoped for such a thing happen in the end or if he just wanted to scare Ji Woo a bit. I don't know, but I kind of feel for him. I mean he got old, lost his glory (to Ji Woo), lost everything and then he realized that he wasn't even allowed to love because that would be simply wrong. If I was him I would wonder about it too. I mean, it's love. And well, Juk Yo wasn't even asking for much, he just enjoyed her presence and the innocence. He was probably reminded of his own youth and all that...

I actually enjoyed Ji Woo's and EunGyo's interactions. I liked it how Ji Woo was annoyed by how easily EunGyo managed get on Juk Yo's good side. He constantly listened to her and allowed he to do whatever she wanted while being extremely strict with Ji Woo. As I watched Ji Woo and Eun Gyo together I was waiting for some kind of atonement for JI Woo's character. That maybe her innocence would touch his heart too and make him view things in different light. But instead, she only turned these two men against each other. Love can be ugly too. It was clear why Ji Woo couldn't write as beautifully as Juk Yo, because his spirit was confined within the society's norms and he wasn't able to break free. Too many superficial things mattered to him while Juk Yo, well he was just a poet who loved writing, that's all.

In a way, I think Ji Woo was a really sad character too, completely trapped. He struggled to get free but he was too petty and close-minded, ambitious without the talent. Juk Yo was trapped too but, at least, he had an open mind. I don't think Ji Woo cared about EunGyo on the emotional level, he might have been lonely, he definitely was and probably smitten by the poem too. He tried to live it but... how can you live the beauty of timeless love without feeling it? Maybe Juk Yo knew it, that what he write could never be lived because once the purity is lost it's lost forever.