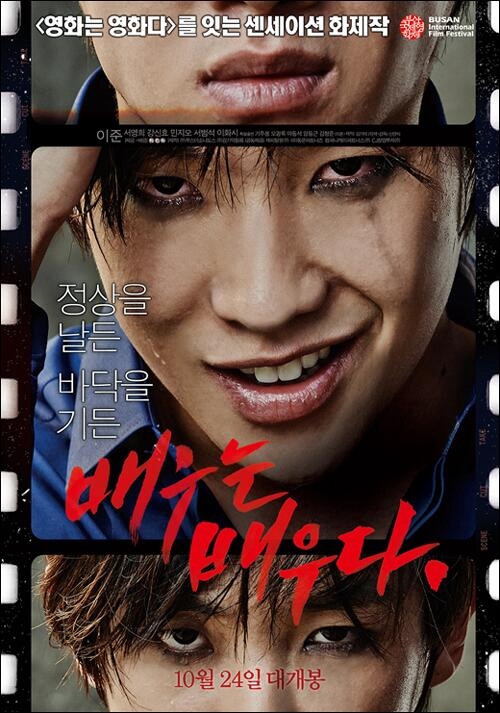 An Actor is an Actor (2013)
Oh Young is a nameless actor who dreams of becoming a big movie star. Then one day, he makes his breakthrough with a film and becomes a star overnight. He discovers a new hidden world of fame, power, and pleasure, but inevitably all things have a dark side, which puts everyone around him in danger.
Native title:

배우는 배우다

Also Known as:

Rough Play; Baewooneun Baewooda
Overall

10

Story

10

Acting/Cast

10

Music

10

Rewatch Value

10
Well, after this movie I had many thoughts.
Firstly, Lee Joon was amazing. From all variety shows I've seen with him and whole Mblaq he just looked like a complete dummy. But after this movie I've changed my mind- he is genius in acting. He perfectly portrays young and insanely-in-love-with-acting actor. There were many reviews that the whole plot was poor because of that scene with mannequin, but I believe that it
read more
shows to us how insanely brave the actor must be. How he has to live carried roles life.

The whole movie is followed by Debbiussy's Clair De Lune, which is my favourite song lately. I think it perfectly fits in the movie- same as lead human life, the song gets faster and lively and falls to slow and silent melody.

Most of people after watching this movie just talk about bed scenes and it's kinda not fair, because the whole movie deserves to be dicussed about. Actually, I've seen this movie five times already and I still think I haven't noticed all important details. And just focusing on those few scenes is pretty ignorant.

Talking about the movie meaning, I believe that it just portrays actors life- how high you can go and then, how low and miserable you can get. Actually, Joon portrays that human being, who can act like human at day and turn into complete animal at night. Saying that his role was completely out of his mind wouldn't be mistake. But it would be ignorant too if we wouldn't try to see another side- he was one of those people, who experience complete madness because of their insane passion for some subject. He was just insanely passionate about acting. In some point, perhaps movie was about actors, who empathize with their roles so much that it replace their real character with acted one. But that's just a random idea.

In summon, it's really worth to watch this movie. Cast, plot, music, i fall for all of those. If it's hard to understand this movie, watch it until you'll understand it because it has really deep thoughts in it :)
Overall

9.0

Story

8.0

Acting/Cast

10

Music

9.0

Rewatch Value

7.0
Usually i don't write reviews, but i had to do it for this movie!
I wanted to see this movie because of Lee Joon, his acting in this movie was brilliant, amazing, like let me stand up and clap, you just can't dinied that it was awesome.
i read some comments about this movie, that this movie is a mess, only beating up each other, sex and nothing more.
this movie is
read more
about how a fame can ruin a life, starting from nothing, becoming something, and in the end again starting from beginning.

if you want to see how good is Lee Joon, then you can watch it, but be ready for a lot of sex scenes and fights.