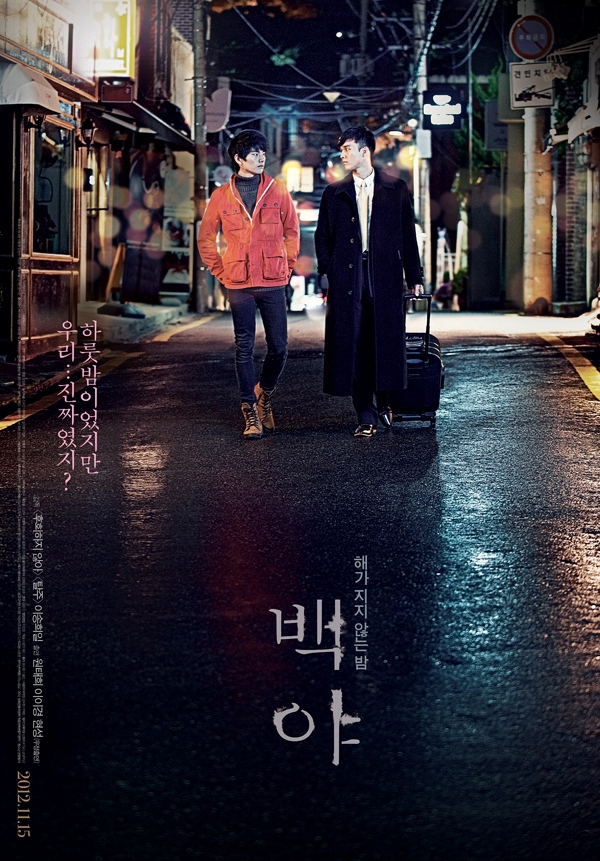 White Night

(2012)

"Won-gyu, a steward, returns to Seoul 2 years after he left with a painful memory. He meets Tae-jun acquainted on the Web and they have a special night at the place of Won-gyu's bad memory. A queer film by Leesong hee-il inspired by an actual case of random street assault by a homophobe in Jong-no."

Related Content

Native title:

백야

Also Known as:

One Night and Two Days
Overall

8.0

Story

8.5

Acting/Cast

9.5

Music

8.0

Rewatch Value

8.0
AHHHHH~ this film ,i quite like it not the greatest i have seen but its worth the watch i love the how it gradually yet realistic the emotions were and how it began to change as this film went on. i defiantly liked the play in lighting as well. The ending is as if it is trying to please the view but at the same time not giving u a hidden look
read more
of the reality that they face. i understand what the director was going for but what i give him my support is that he didnt keep it as ur common ending as if there would be no hope but gave us a shimmer of hope
and love at the end. What i loved more was the One night stand guy i love the symbolic play in words and scene how towards the end he achieved what he had said in the beginning to make it real. to him it didnt matter the room or if it was a stall or not it mattered the meaning behind the act to him. and towards the end i loved how the main character pulled through and showed his emotions like i said he did well in riding the emotion rollercoaster and beat it with a smile on his face.