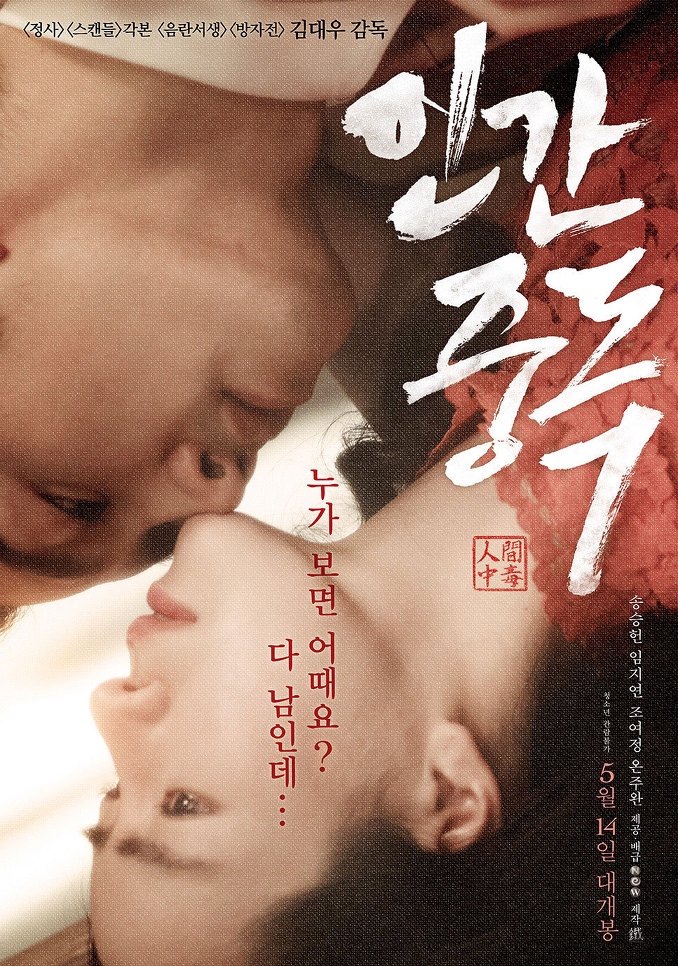 Obsessed

(2014)

In 1969, Colonel Kim Jin Pyeong has returned to South Korea after fighting with valor in the Vietnam War. He is trusted by the Army Commander who is also his father-in-law and respected by nearly everyone on the military base. Nevertheless, Colonel Jin Pyeong suffers internally from his experiences in the war.
One day, Kyung Woo Jin is transferred to work for Jin Pyeong. Woo Jin is the type that will say read moreor do anything to please his boss. Soon, Colonel Jin Pyeong meets Jong Ga Heun, the wife of his new subordinate. The couple also moved into the house across the street from Colonel Jin Pyeong and his wife.
On a fateful evening, Colonel Jin Pyeong teases a caged bird on the porch of his neighbor's home. A stifling obsession soon begins between Colonel Jin Pyeong and the wife of his subordinate.
Native title:

인간중독

Also Known as:

Inganjoongdok ; Human Addiction ;
Overall

8.5

Story

7.5

Acting/Cast

8.0

Music

8.5

Rewatch Value

7.5
I just finished this movie, and thought I need to write a review, as I feel the reviews here don't make this movie justice. This is not a bad movie. The title obsessed, illustrate well the main theme. It is about a forbidden love between two married people, a desire and obsession that consumes everything. It was sad and melancholic - the choice of classical music also enhanced this feeling. It is
read more
definitely a movie for mature audience, as it has very graphic sexual content, shows adultery, and touches upon complicated subjects like post conflict trauma. I also really liked the images of the movie, as they were very beautifully filmed.
It is true that the two main leads had their flaws - the commander had lost his purpose in life after traumatic experiences in Vietnam, and the main girl did a marriage of reason also after traumatic experiences from her past. Both are adults who didn't experience true love, and they are overwhelmed by their own feelings.
Overall I liked this movie, and I found that the actors played well.
Overall

1.0

Story

1.0

Acting/Cast

2.0

Music

2.5

Rewatch Value

1.0
This is only my point of view but I have to say that it's the baddest film I've ever seen so far.
First, I want to say that the script has to be reviewed since:
- I personally didn't felt the love between the 2 main characters, instead it felt like 2 people feeling attracted between one another
- And the main title which Obsessed doesn't reflect in the movie, the obsession
read more
between the leads characters should have been more expressed in more complex scenes instead of sex scenes, if they wanted to only expressed it through sex scenes it should have been more intense with really strong emotions
- Plus, I didn't like the character's personalities; the man seems too weak behind his colonel costume and the women too innocent, but they're not child anymore, it's not about a pure love story in high school like we are used to see, these characters are married and are committing adultery so I would I've like them to be responsible and to assume their relationship.

In conclusion, I feel betrayed because the screenwriter wanted to tell the story of married people falling in love like 2 childs falling for the first time but it doesn't work together and their love story has been built too quick. So the movie is a mess and the mixing of all those defects makes it a clumsy movie.
Maybe the chemistry between the 2 characters was bad as well but I have to say that the directing was really good.