If you're still experiencing technical difficulties, please report it
here
.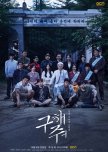 Save Me
3 people found this review helpful
I'm biased as hell. I really don't care. I LOVE LOVE LOVE this drama. This drama, really truly, made the episodes of frustration worth it in the end. Typically, I find dramas lose their appeal to me once we get to the half way mark, so I was very nervous that this drama would do the same. However, I just found myself so immersed in the story that I never once felt bored.
I'm basically just gonna post what I had written about it on my blog when I was only ten episodes in...
This drama was an unexpected surprise for me. I'm a fan of Seo Ye Ji ever since I watched her in Moorim School and I wanted to see more of her, but I'm gonna be honest Hwarang wasn't going to get my view (it looked boring and there were better things I could and did watch) and I wasn't interested in any drama where she wasn't the lead especially if I was gonna have to see ant face. I had made a note that I wanted to see this drama without virtually any clue what it was about. I eventually found out that Ok Taecyeon was also going to be in this drama and he's pretty easy on the eyes so yeah… I didn't read the synopsis on the drama until I was midway through episode one because I immediately thought to myself, what the actual
[email protected]
have I gotten myself into? I was equally repulsed and obsessed by the time I finished the second episode and waited anxiously for every new episode.
The drama absolutely captivates from the acting to the symbolism to the scenery to the background music. The funny and relaxed moments, although far and few in between, are as believable as the thrilling and spooky moments.
As someone who was a fan of Seo Ye Ji, I must say that Im Sang Mi has easily become one of my favorite kdrama heroines of all time and that was because of her. There was strength and courage inside this character that had felt so much pain and to come out of it with everything still in tact? I AM FLOORED AND PROUD.
Of course we know that the rest of the cast did amazing as well and truthfully there is such a satisfaction that i am feeling right now that I can't explain.
Give the drama a chance. It may surprise you.
Was this review helpful to you?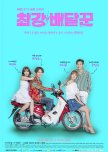 Perhaps I feel differently than most because I'm 23 and feel a connection to most of the characters in this drama. For me personally, this drama really grew on me to the point where I was a little disappointed that the end came so quickly. I didn't expect to enjoy it as much as I did.
The first few episodes were kinda meh to say the least, not terrible, but not amazing. However, I always had an affinity for slice of life dramas and I continued watching. I think the shift happened right around when they decided to become 'Strongest Deliveryman' and that's when it started to feel like I was watching a whole new and exciting show. I will have to disagree with the majority and say that i absolutely loved Kang Soo and Dan Ah's relationship more than I did the second leads. Don't get me wrong though, the second leads were lit and sooooo funny but the first leads were more impactful to me, because I wasn't sold on their compatibility as a couple initially. In the earlier episodes I never felt the chemistry, but as the episodes progressed I fell for how well it was portrayed as a realistic relationship.
What I really enjoyed in this drama was how it made me feel as young adult who often felt like the world and everything was against me. Dan Ah calling Korea hell resonated with me so much because I feel that everyday here in America. I'm not rich, I'm not even "comfortable" in that sense. I have student loans and car payments and rent and its hard to not feel discouraged at times. Kang Soo was relatable to me because I'm the type of person that would give the clothing off her own back if it meant someone else was comfortable. Min chan, I saw myself in the way he was trying to live up to his parent's expectations; i also saw my friends who have graduated from college, but still cab't secure a job. This drama really was like a breath of air and a word of encouragement for me (so corny, I know!).
I appreciated Kim Sunho's portrayal of Jin Gyu so much because brought such depth to his character that it was ridiculous to even think that he was supposed to be a "villain" earlier in the story. Honestly, Ji Yoon's character was comedic, but that's really the extent of it which wasn't bad in the least.
I'm kind of rambling now, but yeah, I really digged this one. And I'll definitely miss it.
Was this review helpful to you?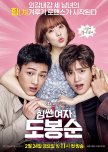 My favorite drama of the year so far. I love the cast and the way everyone works so well with each other. The chemistry between Bo Young and Hyung Sik really got me shook to the core. I found certain aspects of this show lacking, but honestly I was willing to overlook it because it wasn't anything that I found extremely alarming. I will say though, these damn drama cops are really f*cking stupid?! But also I had another issue with how it seemed like they suddenly dumbed down the culprit to get to the ending. Especially as he was working them and deceived them so well. Also [redacted] was kinda frustrating because [redacted] eventually happened therefore I find it so unbelievable that it even happened in the first place. But whatever let's talk about how Ahn Minhyuk is THE PERFECT boyfriend! Ugghhh I love him. JiSoo baby, you'll get to be the first lead one day and you'll get the girl but at no point was I rooting for you to get Bong Soon in this series, not even remotely. SUCH A GREAT DRAMA THOUGH. WATCH IT.
Was this review helpful to you?