*Warning: a few spoilers but they are limited!
Great K-Dramas, Great Family Dramas That Fall Under the Radar
Family dramas tend to surround the day-to-day lives of one or more families. What classifies as a hidden gem? A hidden gem is a drama that you watched and are so thoroughly entertained with it.  These dramas may have gotten good ratings inside Korea but no one else seems to have heard of them. They may not have popular cast (at the time of release) associated with them. 
The thing about these type of dramas, once you have watched it, you make it a point to recommend to all of your friends on Facebook, Twitter, Mydramalist or whatever social media that you belong to.  The story lines are not usual ones covered in a Korean drama, I call them the unconventional stories.  Unlike most dramas where there is only a single story mentioned, most hidden gems have a beginning, a middle and an ending; nothing is left to the viewers imagination. Here are three of my "hidden gems":  
Synopsis:
Gloria
is an intense tale of people who are fiercely devoted to surviving their rough lives but focuses on the life of a nightclub singer, Na Jin-Jin.
Gloria
is a complicated story that evolves around 4 people: 
Na Jin-Jin (
Bae Doo Na
), the younger sister who has lived the last 20 years caring for her mentally challenged sister
Lee Kang-Suk (
Suh Ji Suk
), possessing a cold personality as the president of Double Sharp Entertainment, who has his own problems as the illegitimate son of a construction entrepreneur
Ha Dong-A (
Lee Chun Hee
), a third-rate gangster with a big heart and is the childhood friend of Na Jin-Jin; 
Jung Yoon-Seo (
So Yi Hyun
), the secret daughter of a Chaebol family and former ballerina who has given up her career after a suffering foot injury. 
Why I liked this drama:
This was the first drama with more than 50 episodes, that I ever marathon watched. I started it on a Thursday night and by Sunday early evening; I was watching the last episode! This was my first Bae Doo Na drama and I fell in love with her! I had seen Suh Ji Suk before in other dramas but this was the one that made me a fan! Once you get past hearing the same Laura Branigan's "Gloria" song at the nightclub over and over again, you realize just how good, not only the story but the drama overall is. 
The story revolves around the 2 couples and their growing relationship as well as the career of Na Jin Jin as she becomes a famous singer. Jung Yoon-Seo's father still remains at the top of my "worst parent" ever list; plus one of the most brutal beating scenes I've ever seen in a Korean drama can be found here! The acting by everyone, including the supporting cast was phenomenal!
---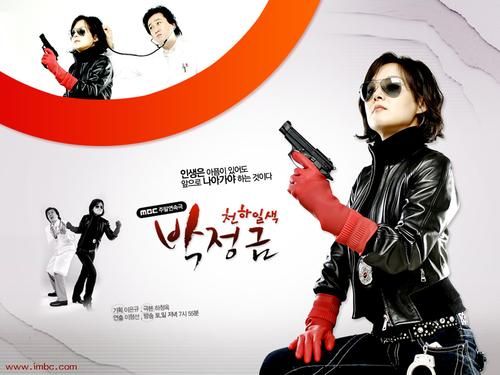 Synopsis:
Park Jung Kum (
Bae Jong Ok
) is a middle-aged, divorced woman who is caught between two men: Jung Yoog Joon (
Son Chang Min
), a doctor, and her first love and Han Gyung Soo (
Kim Min Jung
), a Human Rights lawyer who has had a hard life growing up as an adopted child. To make matters worse, her divorce was caused by her stepsister, Yoora  (
Han Go Eun
), a spoiled and selfish woman. To make matters worse, Yoora was responsible for the disappearance of Jung Kum's older son at the age of 5, 15 years ago.
Why I liked this drama:
 Talk about a complete drama! Wow! I don't think I've ever seen a drama so complete! Not a single storyline was left dangling. I cannot even complain about the ending. Another good sign of a great drama is when the acting is so superb that you thoroughly hate a character! Han Go Eun's portrayal of Yoora as well as her mother, Sa Soon Ja, played by
Lee Hye Sook
, was so hateful, so despicable, there really was no redeeming their characters at all for me. Forgiveness? I wanted none of that for them! Why? You would have to watch it.  
Okay, another drama over 50 episodes but I guarantee, you will never be bored! It is rare in the K-Drama world for a cast to consist of an older; more experienced actors as well as a strong female lead. This is not for everyone but believe me when I say, its uniqueness, not only in the stories but how it was portrayed makes it very refreshing.
---
Synopsis:
The drama starts off about the love and conflict between a mother and daughter. Yoon Eun-Chae (
Seo Woo
) is a cute, kindhearted graduate student studying interior design who loves her parents unconditionally. As an only child, she is spoiled beyond belief but still pleasant, a rarity in k-drama land! Her father and mother own a mid-size construction company, but it's actually the mother who is the brains of the company and has a rather cutthroat personality to boot. 
Eun-Chae has dated Lee Young-Gyun (
Ha Suk Jin
) for over 3 years (another rarity in a drama where the main couple is already dating) and works at a major design store.  He is the third son of family owning a small but successful restaurant. 
Why I liked this drama:
 I love Seo Woo. She was the main reason why I looked high and low for this drama. The other supporting actors, I had seen before in other roles but she was the reason why I had to watch this. 
Okay, the knockdown, drag out physical fights between some of the characters in this drama was enough to entertain me. Not one, not two but a total of six fights were featured. The number one in my book will always be between Eun Chae and Young Gyun's baby sister, Ji Mi
(Yoo Ri Ah
); it was hilarious!! Put that with some serious story lines like adultery, adoption, and illegitimate children, you get some really interesting subjects explored. I was so moved emotionally with the adoption story on how adopted children are sometimes treated, I had to ask some of my Asian friends whether or not what I saw depicted in this drama was true, that period of the drama was so disheartened to me. 
Again, I must applaud the acting of
Kim Hye Sun
as Kim Soon Jung. Her portrayal was so spot-on, I couldn't wait for her to die, go jail or just literally disappear.  The best character portrayal has to go to Eun Chae's mother Son Jung In (
Go Doo Shim
). She transformed her character from despicable to sympathetic in the same drama!
---
Overall, these represent three family dramas that were truly overlooked. What made them special was the absolutely great acting and story lines. From dealing with mentally challenged family to adoption, nothing was sugarcoated and the subjects were not glossed over.  If you like family dramas, I highly recommend these three.  
What are your hidden gems? I'd like to hear about them.