Since this is going to be their first time participating in the "Staff Pick of the Month", let me take the chance to welcome all the new editors (participating or not) who have joined the team. Due to their hard work –including of course Rosefae (the editor in chief), the editorial team has been very vivid lately.
As MDL users seem to prefer romance more than anything else, we decided to explore the romantic cinema this month. Even if you're not into romance, you still might want to consider these films as there are always some great gems out of every genre. This is a humble attempt to show you our favorite romantic films'. Let's begin!
Cheer (Approval Moderator and Editor) recommends:
Well, those of you who know me are well aware of my apparent allergy to the romantic genre. When it comes to the type of romance I like to watch, I have a very firm picky taste that doesn't accept any negotiations.
Out of that picky taste, Hong Kong director Wong Kar Wai's practically the only romance director I would blindly watch his films. He brought a revolutionary definition of how love films should be made. I had to scratch my head several times before I picked this one, the genius director made countless of outstanding pieces, but In the Mood for Love can clearly top them all.
Veteran brilliant actors Tony Leung and Maggie Cheung led one of the most brilliantly made pictures of all times. The film could give the impression of another affair, but it's definitely not that simple. Written and directed by Wong Kar Wai, the film was a sensational, beautiful piece of passion, desire, seduction and regret. The film's narrative pattern was cryptic yet expressionist –like most of Kar Wai productions. The real hidden dialogues were driven by the mood and stares instead of words. And let's not forget the haunting OST that still rings in my ears until now.
This is one of the top romantic pictures ever made. You're easily missing a masterpiece if you haven't seen this yet.
---
Elisabetta (Editor) recommends:
It's a bit like an authentic 19th-century romantic ghost story, and that is why I like it so. It shows a tale about a girl that's hurt and disillusioned by the reality around her, accidentally stumbles into a suspended dream, where there is no betrayal and love is stronger that death. What will she choose? Fighting for her life in not so perfect world, or a memory of eternal and beautiful love, that belongs to her, but yet it doesn't? There are many little things that make this movie attractive: fancy mods' clothes, Sherlockian children, otherwordly residence with phantom-like Adam inside. And of course there is the music, and a melody that has it's own part to play. Although I think it didn't use its potential to the fullest and it's hard to say it's a happy story, every time I watch this movie I like it more and more.
---
AmandaMarta (Trailer Staff) recommends: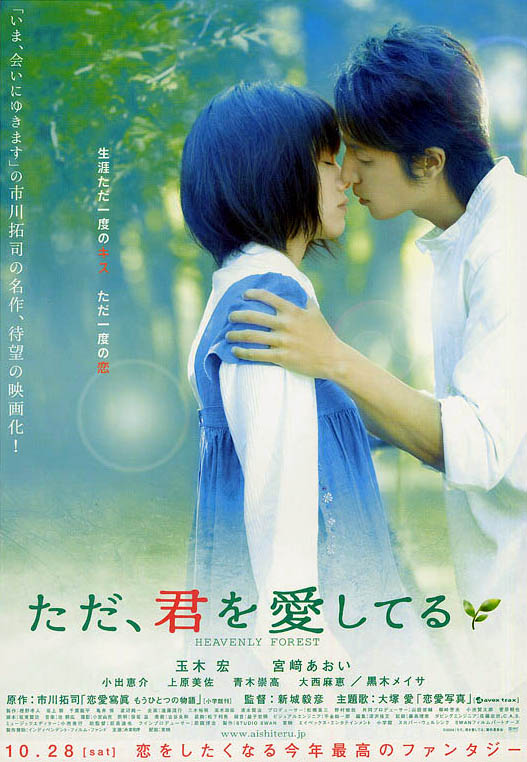 What happens when you have so many talented actors and a writer get together to make a movie? The result is the artsy, romantic film, Tada, Kimi wo Aishiteru also known as "Heavenly Forest". Heavenly Forest tells a simple love triangle story between three university students spanning several years, which forms a realistic couple that you want to root for. It also conveys a powerful message of life and has the atmosphere of the drama, Orange Days. Based on Takuji Ichikawa's novel "Renai Shashin: Mo Hitotsu no Monogatari" which was written as a spin-off of Yukihiko Tsutsumi's 2003 film Collage of Our Lives, every moment in the film has its nostalgic feeling into it and the transaction from one phase to the other blends well which never loses its hype. This film has the perfect balance of cuteness and unforced emotions where many romantic dramedies tend to overdo the former. Not to mention, the film displays meaningful happiness as opposed to tear-jerking sob films. Aoi Miyazaki (the lead female character) outstand her acting job as first rate. You cannot forget Tamaki Hiroshi (Love Shuffle and Nodame Cantabile) for his superb awkward performance. In addition, the scenery and photography are skillfully rendered like the usual in Japanese films. Stunning cinematography, well done time progression, beautiful music and one of the best acting performances best represents the film. If you want to fall in love with the characters, have them pull you in and see it from their point of view, this film is for you. Enter the film with no expectations and you will leave blown away….guaranteed.
---
mysecretsoul (Editor) recommends:
Whenever a specific event or line of dialogue strikes me as romantic, on comes this warm and pleasant thrill into my fingertips. Once I mentioned the odd reaction to a friend and (after bypassing her inevitable heart attack jokes) found it common after all. Perhaps most people experience this as butterflies in their stomachs, but with this we can at least be sure I am no robot. Right? No? In any case, let me begin with a startling admission: purely romantic movies can be difficult for me.
Wait! Stay with me for a moment before you scroll past this entry in disgust. It is not that I hate, look down upon, or discount the genre. On the contrary, I believe love to be the most universal, enriching subject humans have ever put to stone, canvas, page, and screen—in all its forms. My difficulty always rests in finding the sort of love story that stirs my heart just so. I suppose it makes me spoiled, but what I look for in romances rarely has any rhyme or reason (just like the real thing, ne?). Then how might I know I've found the "one" in a book or film? When the diverted "butterflies" rush through my fingertips once again.
My choice in Romantic Prelude might be an atypical one for this reason. Could it be anything else, when the leads have never even met? Satoshi and Nanao lead parallel lives, in adjacent apartments. All that stands between these possible soul mates is a thin wall, through which the sounds of their existence leak. Satoshi spends his days taking pictures of this model or that star. Yet his dream has always been to travel the world and capture its delightful landscapes. Nanao toils happily away at a flower shop, preparing to travel herself; the biggest worry might be that as a Japanese woman, she's single at 30. As their issues steadily intensify and reach the boiling point, both our protagonists find themselves trapped by circumstance. It's the little noises coming from beyond the wall that strengthens them enough to move forward….but when will the two finally meet?
This film is an unusual approach to the first sparks of a new love, as well as a character study. Both Satoshi and Nanao experience a lot of character growth individually, yet the wall sequences are such that the viewer pines for the time the characters finally come face to face. Please don't expect tons of skinship or tear-gushing passion, however; Romantic Prelude is rather gentle if a touch slow-paced. Best watched from the comforts of a well-worn chair and your very favorite blanket, ne?
---
Hessa (Approval Moderator) recommends:
This movie is based on a popular cell phone novel. It is an age difference, student-teacher relationship, sad, romantic movie, which talks about Rio, a high school student, who never cared about anyone but herself due to her traumatic past. She is only interested in money, which she gains by compensated dating and extortion. One day, Rio's photographs are mixed up at the store with those of another person of last name Ozawa. She then meets 35 year old college professor Kouki Ozawa, and falls in love for the first time.
The movie first introduces Rio, who is a bad girl. She seems confident and mature, but everything changes when she meets Kouki. You can see the character development of Rio when she tries to change because of her feelings toward Kouki. Because of it, she changes and her real personality that matches her young age starts showing and she seems really happy and cheerful. However, what she does not know is that Kouki has been diagnosed with a brain tumor. Kouki lost hope and is counting the days he has left, but his life is suddenly brightened by the young cheerful Rio. I really pitied Kouki, I wondered how conflicted he must have felt when he met someone that makes him happy but at the same time wants to protect from being hurt by him. The age difference relationship actually did not feel weird at all, and I really liked it. I also liked Rio and how she worked hard to win Kouki's interest. I would recommend this movie if you are into sad-romantic movies with characters that will make you love and pity them.
---
Aya97 (Editor) recommends:
Portrait of a Beauty is a fabulous movie. From my knowledge, there aren't many who have seen it, and its popularity isn't high. So why am I recommending it? Exactly because of those reasons. Watching something new is more interesting than watching the same old "urban-tragedies".
The movie takes place in the Joseon-era, ruled by King Jeongjo. Its story involves the fates of 3 people which somehow cross each other. First of all, we have our female lead Shin Yun Jeong (Kim Gyu Ri). Yun Jeong is a talented painter with unconventional themes. Because she is a woman, she has to hide her talent from the world, the painting scene being only consisted of men. For many generations, the men in her family have been painters so this is also expected of her brother Yun Bok. Because of his lack of talent, Yun Jeong draws his works for him, taking no credit. After her brother commits suicide, leading to her father discovering her secret, Yun Jeong is made to convert to a man's life forever. Then is when she meets the two men in her life.
Next we have Kim Hong Do (Kim Young Ho). The most acclaimed painter in those times. A genius, lacking in emotions. After meeting Yun Jeong, he approves of her talent and later becomes infatuated with her. His love for her drives him to desperate acts, losing his humanity on the way.
Last but not least, and my favorite character/actor, Kang Mu (Kim Nam Gil). He is considered to be the misfit of the society. Honest to a fault and a simple person, Kang Mu knows how to love. He falls in love with Yun Jeong even when she was dressed as a man and supports her along her way. The only thing he wants in life is to have a normal family, nothing more. His love is pure and undying.
So these are the characters and their stories. Before I finish this entry, I would like to say something more. One of the most beautiful traits of this film is its visionary effects. The light's angles are so perfectly placed that it will give you the feeling of a story book.
If you are in for something deep and controversial then give this movie a try.
---
These were our favorite romantic films. Now, what are yours?