Am I in Kdrama Heaven? Because this summer's romance dramas have been incredible! So many great romantic comedies and melos. It is the first summer I have found that most of the dramas I have been picking have been nothing short of fantastic. Very, very few bad eggs in this batch and I am both, surprised and extremely impressed.
At first, I was not sure about this drama or Thirty But Seventeen (another drama I am currently watching), because of the very little anticipation/fanfare I had heard about these dramas prior to their beginnings. They may not have the more seniored star-studded cast, as seen in What's Wrong with Secretary Kim, Are You Human Too, or Wife I Know, but they are definitely worth checking out. Super funny, interesting (although at times cliched), and just easy, enjoyable dramas that are really starting off strong. I cannot get enough!
I wonder how the upcoming fall dramas will be able to compete with these summer hits. But if they're anything like My ID is Gangnam Beauty, I might never get any rest. Sleep comes second to Kdramas, right?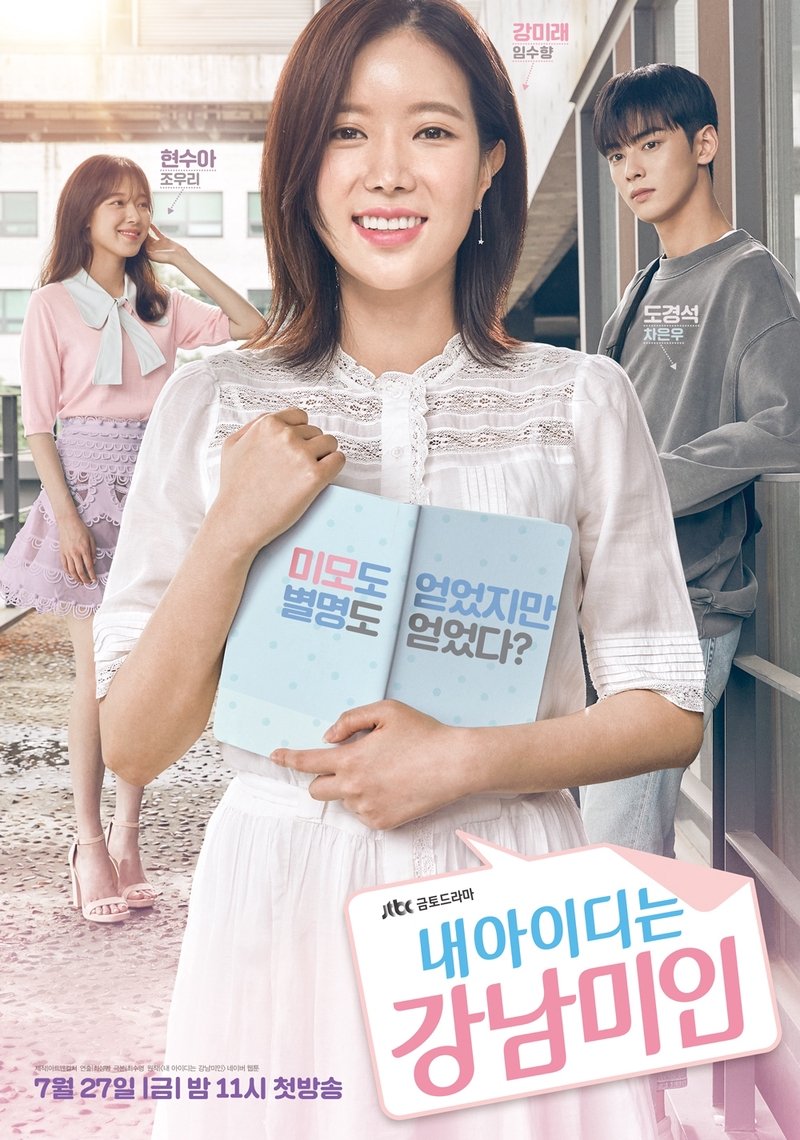 Story
Based on the popular webtoon, this drama is the story of Kang Mi Rae (Im Soo Hyang), a girl who was severely bullied growing up because of her appearance. Wanting a fresh start, she decides to undergo plastic surgery before entering college as a Chemistry major. However, her dreams of a new beginning hit a snag when she finds that Do Kyung Suk (Cha Eun Woo) , someone from her middle school days, is also attending her college. However, Do Kyung Suk is unaffected by her changed appearance, as he sees people for what they are on the inside, and not on what's on the outside. Nevertheless, not everyone shares this non-judgmental philosophy on physical beauty, and Kang Mi Rae finds out that even though she may now be beautiful on the outside, it does not protect her from people who are truly ugly on the inside.
Will Kang Mi Rae find out one's worth is defined by more than just one's outer appearance, and realize that those who truly care for her, never judged her by her looks alone?
Reasons to Watch
Important Topics Discussed: Bullying and Insecurities
One of the most interesting aspects of this drama is its depictions of difficult, often overlooked, topics such as bullying and insecurities. In High School, I was severely bullied and suffered from low self-esteem, because of this, this drama hits me right in the feels. The topics it is discussing not only resonate with me, but relate to so many people, especially given society's obsession with one's physical appearance. I love that it shows this darker side of human nature, but also shows how these insecurities may hurt us, but they do not define us.

Strong Female Lead
In this drama, I also love how strong Kang Mi Rae is as a character. She has been bullied, hurt by some of those closest to her, and judged based solely on her appearance, and yet she has an undeniable inner strength. She is a fighter. Yes, the bullying hurt her emotionally and she chose to undergo plastic surgery in hopes of a new beginning. But she is only human, and if you watch the drama you will no doubt realize that all the terrible experiences she went through when she was younger (and is still going through), have made her into an incredibly strong woman.
No Nonsense Male Lead
To start, I want to make note that unlike many Kdrama addicts I do not listen to Kpop (I know…I know… blasphemy). But it's just not my thing. So, I was unaware of who Cha Eun Woo was prior to this drama. Upon investigation, I found that he is a member of the Kpop group ASTRO and I must admit I am really loving his portrayal Do Kyung Suk. Do Kyung Suk is such a no-nonsense male lead. He does not care about appearances or impressing those around him. He is just himself. Sometimes it comes off harsh, or mean, but I think his stark honestly is refreshing. And watching him see right through Hyeon Soo Ah's (Jo Woo Ri) manipulations is A-MAZING! (I, for one, am living for it).
Pure Fun
And lastly, but probably most importantly, this drama is pure FUN! Laughing like crazy, cringing from second-hand embarrassment, getting angry at the evil characters, this drama is addicting, ridiculous, but oh, so enjoyable. Reminiscent of the way I felt toward Boys Over Flowers, Cheese in the Trap (the first 6 episodes), and Heroine Disqualified, this drama is a complete guilty pleasure watch. It is far from perfect. It is filled with cliques/common drama tropes, has questionable acting at times, outlandish scenarios, and sometimes the plot does not make the most sense, but it is sooooooo enjoyable to watch and outrageously entertaining. I am in love!!!! Did I mention the romance brewing is super fluffy and cute! … I only wished I had waited to binge-watch it. The wait for new episodes is killing me!

Bonus points for Kang Mi Rae's dance routine. It was awesome <3.
Have you started watching this drama yet? If not, do you plan to start it?
 What has been your favorite summer Kdrama?
 Let me know, and share your thoughts in the comments below!