As this is the last of this decade, I thought I'd do something special to end things off for k-dramaland.
This was originally supposed to be before the new year began but some personal mental health issues got in the way of it, therefore I would like to apologize for the delay to everyone who was looking for the year-end musical selection of drama osts (the  korean version). Although I haven't watched every one of the dramas mentioned below, I have listened to every track and others from all around the entire year, so you can be certain that I'm not missing anything, some are simply not included.
This version of 2019 OST collection with a few words of review, will be a little different from last year. The article is divided into two sections, divided by a 6-months period, one highlighting the best musical contributions from 'the season of warmth' which ends in July and the rest is for 'the season of shiver' which begins thereafter. So bear with me, the list is going to be longer with 19 songs altogether, 9 selected for each season and one bonus that's my very personal favourite among all of them. The only other thing that I would like to mention before we start things off is, THIS COLLECTION IS COMPLETELY BIASED, ergo, if your personal favourite isn't included, I'm sorry but you're always welcome to comment below for other people to enjoy your favourites.
---

without any further addition of words, let's begin :)
---
SEASON OF WARMTH
9. Her Private Life  >maybe - Lee Hae Ri
| | |
| --- | --- |
| status | dropped |
| rating | |
| spotify | link |
I wouldn't want to start the list off by mentioning something that I've never even paid attention to but ignoring the music wouldn't be the right thing to do either. Therefore, I present you a track that I've grown fond of over the months but I have to be honest. I can't seem to make myself watch anything with Park Min Young, I don't have anything personal against her but every time I watch her act, it feels like I'm watching someone 'act', the one thing the audience should be unaware of, in my opinion.


8. The Fiery Priest  >paradise - Chin Chilla, GA EUN
| | |
| --- | --- |
| status | completed |
| rating | 3/5 |
| spotify | link |
All the hype around it, Maumee me watch it, originally wasn't planning on that. I am thankful to all of you for hyping this show up, because it does deserve it, I can't really say much except it's a very fun show, it's sometimes a little fast-paced, but fun from the opening to the ending scene, either way.
7. The Light In Your Eyes  > every time in my heart - Maytree
| | |
| --- | --- |
| status | plan to watch |
| rating | |
| spotify | link |
I have unintentionally watched a lot of Han Ji Min dramas so I must say she knows how to pick her jobs. Till now, everything I have watched of her has only been impressive, she has great chemistry with every one of her leads, and knows how to communicate with the camera, pro timing on her dialogue and she has a very enjoyable presence. I have yet to watch this show because I was busy watching One Spring Night during the airtime of this one. Regardless, the song is good.


6. Angel's Last Mission  >STAY - O. WHEN
| | |
| --- | --- |
| status | dropped |
| rating | |
| spotify | link |
The title of this show was alluring to me, so I thought I'd give it a watch, soon after pushing myself into watching the 4th episode, I must confess that I found it boring. It wasn't the predictability of the plot, or the confusing character arcs, it was the pace, which even when it was moving, felt as an audience that it was static. The music on the other hand is beautiful, something you would expect from a drama titled Angel's Last Mission.


5. Touch your heart  >make it count - CHEN
| | |
| --- | --- |
| status | dropped |
| rating | |
| spotify | link |
Because I am a fan of Dong Wook and In Na, I surely was excited for this one. Also, I hadn't seen any typical rom-com styled dramas simply because it's not something I gravitate towards when I have a choice of watching a psychological thriller, regardless I managed to watch till episode 7. The show isn't bad at all, but it certainly isn't mind blowing enough to keep a person glued to their seat, who avoids things under this specific genre almost every time. The song included here is the first OST track off the drama, very catchy, sweet, and has a Jason Mraz vibe to it, fits well with the dynamic created for the main leads.

4. Save Me 2  >only he... - sunwoojunga
| | |
| --- | --- |
| status | completed |
| rating | 4/5 |
| spotify | link |
Save Me, was one of my favourites, and the introduction to now my personal favourite: OCN.  The way they handle horror, trauma, any questionable appearance of men looking to abuse, eat or possess others is fascinating. The second season focuses on religious cult activities as well but done differently, for me, the first season can never be topped, I don't even think I have seen anything alike, on American Television, a place where the more gruesome you are, the more the ratings, I suppose. The soundtrack didn't disappoint either. This was a satisfactory watch.


3. Laughter In Waikiki  >Waikiki - actors
| | |
| --- | --- |
| status | completed |
| rating | 2/5 |
| spotify | link |
After the spectacular first season, this was very not IT, for me. I have credit my enjoyment of the first season to Kim Jung Hyun and Jung In Sun, therefore time second season not living up to the hype personally is reasonable. Hopefully, everyone remembers the title track to the first season, which was WONDERFUL, if I had to use an adjective and the second one is "WONDERFUL 2" especially the actors' version, I have a preference for, I can't specify why maybe because it sounds more wholesome.

2. Possessed  >hold my hand - leebada
| | |
| --- | --- |
| status | completed |
| rating | 4.5/5 |
| spotify | link |
This is definitely one of my favourites of the year, the melancholic ambiance that it thrives in is exactly my style, as well as the occasional, clever dialogue delivery to lighten up the mood is perfect. The acting and chemistry get a 5/5, the female lead has successfully created a unique persona for her character and I applaud her for it.

1. One Spring Night  >spring waltz - Carla Bruni
| | |
| --- | --- |
| status | completed |
| rating | 5/5 |
| spotify | link |
This is the exact kind of drama I look for, the chill, ambient, slice of life with occasional social commentary and ample romance with comfortable acting and aesthetically pleasing soundtrack. The French nude colour palettes and every scene give off a feeling that you would get while watching a Woody Allen film. This drama is already one of my favourites of all time, everything about it screams indie to me, including the poster.



---
SEASON OF SHIVER

9. When the Camellia Blooms  >you are my vitamin - motto, YONGZOO
| | |
| --- | --- |
| status | completed |
| rating | 2/5 |
| spotify | link |
I know I've watched it but I can't remember my experience with it, I know the story and what happens, other than the chemistry of the actors and the romance, this was underwhelmingly insignificant, which is strange given that the topic portrayed (mostly focused struggles that single mothers go through) is fairly important in our society, and something I'm interested to educate myself in, I might have to watch it again before I can give a more legit comment about it.


8. Vagabond  >fallen star - Elaine
| | |
| --- | --- |
| status | completed |
| rating | 2.5/5 |
| spotify | link |
The biggest disappointment of 2019, for me. Started off decent with smooth action sequences as I was warming up to the style of directing, but focused on the political aspect of the plot more than necessary, minimum appearances of the lead actors, no clear direction, and forced character development just made this utterly exhausting. The plus side is that the acting was pretty great, and I got to watch Suzy on screen after 2 years.
7. WATCHER  >outsider - Yi Sung Yol
| | |
| --- | --- |
| status | on hold |
| rating | |
| spotify | |
I've watched the first three episodes of this one but to be honest I don't have high hopes for the plot, the last Seo Kang Joon gig was disappointing and frankly, I don't want to have the same experience with one of my favourite actors again so I'm nervous about picking it up. The music is eerily comforting which is a cherry on top for the show if it keeps up.


6. Designated Survivor: 60 Days  >faith - Nine9
| | |
| --- | --- |
| status | plan to watch |
| rating | |
| spotify | link |
As you can see I haven't yet gotten to watch this show but as soon as I do I hope I like it enough to tell my past self that I chose the right show here. Talking about the thing that I can tell you about is the music, I came across this song on Spotify discover weekly and the funky beats really grow on you, not that I don't consistently listen to alternative bands. The soundtrack has a lonely optimistic vibe about it so I recommend checking it out if you like that.
5. Strangers From Hell  >room no. 303 - the VANE
| | |
| --- | --- |
| status | completed |
| rating | 5/5 |
| spotify | link |
I'm not sure how to explain it, all that I can muster up to say is I was so into this show that by the 6th episode I wanted to do a video essay on YouTube on the directing /screenwriting of some selective scenes that had reunited my decapitated self with burning with passion and curiosity self. The delivery of the lines by Dong Wook was gorgeous, I felt every single syllable down to that smile that went up to both of his cheekbones. The character development along with the cohesiveness of the director to connect the opening scene with the last episode and not letting anyone forget about it is just pure beauty. I have never seen so much passion and hard work put into a drama before this, I'm very grateful that I got the opportunity to witness what the entire cast had arranged with the blood, sweat, tears and insanity.


| | |
| --- | --- |
| status | completed |
| rating | 3/5 |
| spotify | link |
Regardless of its plot point, the music alone has the potential to earn itself a 5/5 from me, absolutely phenomenal, every track on here deserves to be a title track on an album. As expected from the cast of veteran actors, the chemistry, performance, scene presence, all on point. But this is definitely something I would encourage everyone to watch because of the music.
3.

 

Miss Lee  >fishbowl - Stella Jang
| | |
| --- | --- |
| status | on hold |
| rating | 3.5/5 |
| spotify | link |
I enjoyed this way more than I had expected. Technically speaking I am the kind of a person to lean more towards slow, laid-back, slice of life ambiance themes, so this would be a no-brainer, but the show packs more thrilling moments and escalates from scenes of extreme hopelessness and utter loss in humanity to disney-world happy real quick. I don't know if it's something I love or am uncomfortable with, yet. The acting felt realistic which was nice, and the story is simple, but sad when you think about the daily lives of working employees and the fact that you can't run away from adulthood forever, anyways I recommend watching this when you are too happy.


2. Be Melodramatic  >your shampoo scent in flowers - Jang Beom June
| | |
| --- | --- |
| status | completed |
| rating | 5/5 |
| spotify | link |
Surely this was the hidden gem of 2019, perhaps not quite hidden after its 3rd episode but no one saw this all kill coming. From the screenwriting, directing, acting, down to chemistry and the perfect timing of the punch line in someone else's monologue, was perfect, or maybe they downplayed from the beginning, therefore, no one realized, who can tell? Nevertheless, I have already watched it three times, and this reminds me of the way I felt when I found Misaeng, maybe a little less depressing than the former. The social commentary was witty and consistent, I appreciate that very much, and the fluid transition from episode to episode with subtlely portrayed character development, all hail! This deserves DOTY.


1. Hotel Del Luna  >done for me - PUNCH
| | |
| --- | --- |
| status | completed |
| rating | 3.5/5 |
| spotify | link |

Despite HDL not being anywhere near my favourites, I have to admit that the musical contributions from this project have been truly a blessing. Every single, single from HDL has hit the charts and expectantly broke all records. I will be honest with you here, as soon as I was done watching the first episode I knew that this would be a "money-maker" basically a lot to do with flashy shiny things rather than the material, in this case, it was the production, casting, musical choices and obviously the costume designs. The plot was barely any different from "Goblin", down to the soundtrack they've pretty much-done everything similar. HDL, to me, seemed like "Goblin" with the cinematography of "While You Were Sleeping", makes sense because the same director was in charge here as well. I don't have anything to complain about because I wasn't expecting anything, I'm just happy to see Ji Eun on screen, and the music is a plus. And just so, in case anyone misunderstands my attitude about HDL, this is a very normal thing in the entertainment industry and every artist or actor at least has one of these on their resume to display their 'banking worth' and I know that.
---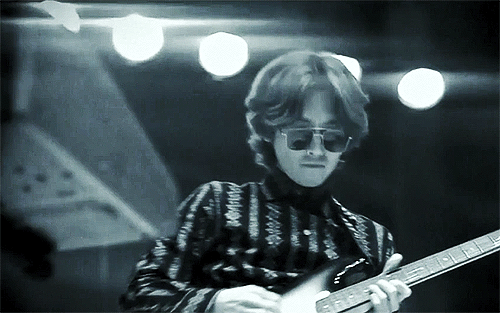 Now, time to mention my favourite of all time. Given that I've already talked about the show before on the list, I won't waste any time on the explanation of the plot. The song, on the other hand, it's probably one of the most beautiful songs I've ever heard. I personally think sad things often mould the beauty of art, and lyrics about how someone who has lost themselves to their dream finds out that they've lost their dream and everything they had once held close to their chest whilst chasing for that dream is heartbreaking, also the reality of this world where more people seem to lose themselves before they can find out if they could've made it to the top or not. Not just for someone who's intensely passionate about music but for anyone who is or has been intensely passionate about their purpose in life. Sometimes it doesn't matter if that thing is wrong or right all the counts at that moment is to be able to touch it because you've never felt how it feels to touch something you think is the most enchanting thing you could ever think of. The story and purpose of the show is similar and the song is very close to my heart. 
| | |
| --- | --- |
| | |
---
Hello there my fellow drama enthusiast, I congratulate and thank you for reaching the end of this article and reading all through the ridiculously extensive reviews. Stay tuned for the Decade Round-up: 10s :)
---
What were your favorite Kdrama OSTs of 2019?