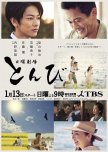 Tonbi
60 people found this review helpful
This is my first review so I will keep it simple. Tonbi is an incredible and heartwarming family drama which focused on the growing relationship between father and son. I loved how it represented the importance of family and how life's events and circumstances can weaken or strengthen family bonds. Yasu who was the father is such an entertaining character to watch. Never have I come across a character who made me laugh and cry at the same time. He is what I can only describe at best a Tsundere. His behaviour was unpredictable and often irrational. It is a wonder how he managed to have such a lovely and beautiful wife. There were moments in the show where I wanted to shake him so that he could come to his senses. His stubborness was frustrating to watch but at the same time you can't help but find him endearing and loveable as he learns the value of being a parent. Despite him being a real Baka no-one can deny his complete love and devotion to his son Akira. The acting by all the cast was fantastic and the instrumentals and OSTs which accompanied the series was beautiful. It was also wonderful to watch Akira grow and learn and to be a man in his own right. Relationships are never easy to manage and this also applies to parent and child relationships, they also need love and respect and the willingness to compromise and work through differences. No-one is perfect and this drama showed clearly the struggles of being a parent and that it is a continuous learning experience which in return becomes rewarding.
Overall this drama was a complete joy to watch and also very satisfying. It gave me an incredible and emotional experience and I can highly recommend this drama. It is worth investing 10 hours of your time to watch this lovely and heartwarming family story which totally captured my heart.
Was this review helpful to you?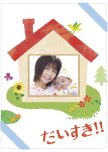 Daisuki!!
17 people found this review helpful
Since no-one has written a review for this heartwarming and tender drama I decided to write one to give it some attention it deserves. The drama focuses on Yuzu's story as a mentally disabled young woman who raises a child against all odds. I thoroughly enjoyed watching this endearing drama. Having experience of working with children who have severe learning difficulties I found Yuzu's story very relatable. Their behavior is unpredictable and they do have difficulty in processing information but they feel emotions just like everyone else and just want to be accepted. The discrimination she faces are real, the challenges she faces are real and to go through all this while raising a child is truly inspiring. The drama pulls away from being too heavy by providing many lighthearted and warm moments between Yuzu and her daughter. It focuses on the importance of family and friendships and it demonstrated that with the right support and loving care people like Yuzu can thrive and succeed in society. The acting was brilliant by all the cast and no doubt Yuzu's daughter Himawari will steal your heart away. Personally this is why I love Japanese dramas so much because their simple stories can really capture the audience's heart. If you like very good quality, heartwarming and meaningful dramas then I can highly recommend Daisuki.
Was this review helpful to you?