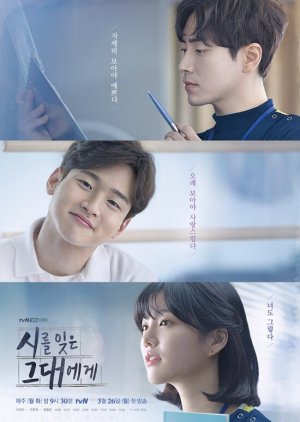 Story: 8/10

It was essentially slice of life at its best. Nothing extravagant yet nothing too simplistic. I loved loved the poems and let me tell you I am not a big fan of poetry thanks to A-level Literature. But the poems from this drama was absolutely sensational and so heartfelt. I loved how there was a story behind each poem. The drama was quite unique in the way it explored various points and mini stories throughout the series. It was delivered quite well as well. I felt that in each episode, there was always something to take away as a lesson or as something to reflect upon. The story was kept real and relatable but also had its lighthearted and comical scenes, which by-the-way were absolutely amazing. I couldn't stop laughing at various scenes of the drama. Romance wise? It was quite unexpected actually...that is all I am going to say about romance. I am not and will not ruin it for you (it's that good). The only thing I felt the story lacked was how it did not thoroughly explore the development of some of the characters; they were mostly snapshots of what the characters dealt with/did on a daily basis. Particularly with Jang Dong-Yoon's character, I felt it lacked depth and understanding, especially with the way the drama ended. As a viewer, I didn't feel quite connected to his character. But other than that, it was overall a good watch.

Acting/Cast: 10/10

Okay, I don't know about anyone else but for me, the cast was amazing. I think each and every one of the cast played their role really well. Lee Yoo-Bi perfectly suited the female lead with her baby-faced beauty (I can't still believe she's 27?!) and executed the role amazingly. Likewise with the rest of the cast.

Music: 8/10

I don't really have much to say about the music, because I hardly paid attention to it. But overall it was good. Nothing overrated or unsuited. The music matched the atmosphere of the scenes and set the mood perfectly. I particularly liked the soundtrack when the poems were being voiced.

Rewatch value: 8/10

Hell yes. I would definitely come back to watch it again. Maybe not anytime soon.

Overall: 8.5/10

So there. I gave it 8.5/10. I didn't give it the full 10 because I think this drama did have some plot holes. Although all in all, it was a good watch and you will definitely find yourself in love with some of the characters. Like it or not, I would say give it a chance.
Was this review helpful to you?