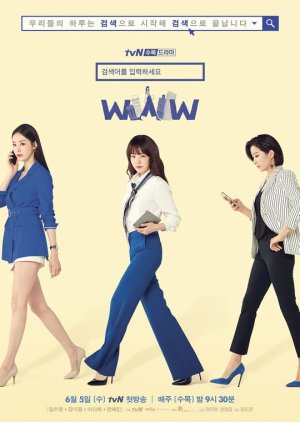 It's been a long time since a drama had me so excited that I couldn't stop squealing and grinning like mad the entire time. I'd been putting it off for a long time even though I had planned to watch it even before it released, because of Jang Ki-Yong. "Kill it" had made me his lifelong fan, and who can resist that dreamboat face?????????
This was even more so in WWW: Search. You can't stop drooling every time he's on screen.
But no, the reason that I loved it so much is basically three words:. Bae Ta Mi. She was just soooo amazing. The very first episode made me love her. She's just...I have no words. And the complex love triangle between Tami, Hyeon, and Ga Gyeong.....
Honestly, I found it more intense than their respective relationships with Morgan, Ji Hwan, and Jin Woo.
But the raw confidence that these three women exude with so much ease, their power....it was just mind-blowing.
And Hyeon,.... she's just so adorable. And the music score, ecspecially their 'victory song' (as I mentally dubbed it) is so apt and catchy.
So yeah, although it does down towards the end, I wouldn't have missed it for the world.
Of the women, I liked Tami the best. But among the men, surprisingly enough it was Jin Woo I liked the most. He's a complete jerk to everyone who's not Ga Gyeong... but I suppose that's exactly why I like him so much.
Was this review helpful to you?