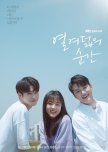 This drama was a sweet watch and I found myself rooting for every single character. The soundtrack was soft and easy to listen to and everything was very well done.
That being said, I felt like they could have added a lot more depth to some of the characters, which is the reason I'm giving this a 7.5 overall. The ending brushed over a lot of the other characters' stories. I wish they expanded more on what happened to Hwi Young's family - how did he have a whole conversation with his brother without his brother responding to him even once? That felt like such a cop-out. Also wish they furthered Oh Je's storyline a bit more (although I do understand that he was still unsure of how he felt exactly).
Otherwise, it was well done overall. I'm looking forward to seeing these actors in future projects. :)
Was this review helpful to you?