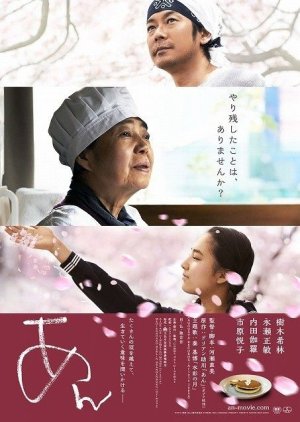 I wanted to watch this movie simply because I love dorayaki. I wasn't really expecting anything, but I also found the idea of a 70 + years old returning to work and teaching the young folks a lesson appealing.
I had the opportunity to do so when the movie was released, or at least featured on Netflix following the recent death of the main lead Kiki Kirin. I've seen her on TV before and it was always mentioned how great of an actress she was, but this was actually the first movie she was in that I ever watched. She was indeed a magnificent actress.

It turned out to be another one of those nice slice of life Japanese movies that gently, with both sad and more uplifting scenes, give you something to think about. Not just about your own life, but also how you view and address other people, out of ignorance or lack of care, may affect their life deeply.

Tokue's circumstances in life were sad, but it was because of these that she became a very introspective special person with a different connection and sensibility towards the things and people that surrounded her. An inspiring old lady increasingly difficult to find in real life.
I couldn't agree more when she says "the soul of the dorayaki is the anko"; a simple but ambiguous message. You can indeed dress the dorayaki in very nicely fried pancakes, but it's the core that matters the most.
Same goes for people.

The others are regular modern life characters, pushing forward everyday and just trying to make a living without much passion or even success.
Sadly, sometimes you seem to not be able to find your way even when you meet such inspiring people, but fortunately this is a movie. If you can't succeed, at least you should enjoy the ride, right?

The young lady is apparently Kiki Kirin's granddaughter. I didn't know that at the time I watched the movie. I remember thinking that, even without much make-up, she's possibly one of the most beautiful Japanese girls I've ever seen. Not just physically; although her role was small, there seems to be a warm soul inside.
She portrayed Wakana, a lonely unhappy school girl who doesn't get along not only with her mom but also with her classmates as well, even though they may go to the same places on an everyday basis. I seem to pass by this kind of young boys and girls very frequently here in Japan.

Despite the serious topics, the movie feels a bit "airy" and light sometimes, leaving a lot to be sub-intended. I suppose that's typically Japanese, addressing the subject but not in a very straightforward manner, almost like not addressing it at all, leaving it to the viewer to decide what to do with that information.
Although the story is a bit predictable and I hoped for a bit more of development in some areas (particularly the finale), I enjoyed watching this slow paced movie while my husband fell asleep besides me, bored to death. Guess it's not everyone's cup of tea.
Was this review helpful to you?