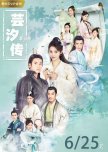 I am so satisfied that I watched this Drama.
After my exam I want to rewatch it again
And again. Loved it so much❤❤❤❤❤
If you guyz trust me,then WATCH it.
And I am damn sure you all will like it❤❤❤❤❤❤❤
I don't want to talk much so that it could spoil your excitement.
GO NOW AND WATCH IT❤❤
I am sure it will be WORTH of your time❤❤❤❤❤❤❤❤❤❤❤❤❤❤❤❤❤
Was this review helpful to you?