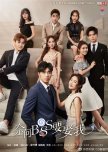 This review may contain spoilers
This is the first time I have written a review for a drama... so bear with me?
I started watching this with an open mind after seeing all the reviews - both good and bad, so I did not have that much expectation? Overall, it was ok, it's not one of those WOW drama. Would I rewatch this drama? probably not.. some scenes were cute.. I might replay those eps but I would not watch the entire drama again. But I am looking forward to see how season 2 will be like.
- may contain spoiler from here on...
Storyline - the drama as a whole in terms of the storyline was ok? But, some of the storylines feel incomplete? Like the way Chu Yan was kidnapped and why Yi Zhou's mother acts the way she did at the end? I need more to those stories!! Also JiaFei and Wen Li's story and Chu Yan and Tong XiaoYou's story could be more elaborated? And An Ran.. I feel like her character was rather clumsily portrayed? It's not particularly the actress's fault but rather the character development (??) was not very good. The thing that got me a bit weird out was the extreme possessiveness of Yi zhou. If I was Xia lin/ Mu Mu, I would feel very creeped out, and it was very hypocritical of Yi Zhou to do what he did. If you can get over the creepiness of his actions, the rest of the drama is somewhat cute?
Acting - overall, it was ok.. not superb...there were some scenes where the male and female lead could have expressed/acted out better? They look unnatural in those scenes.. but it's only a few scenes? They have potential for sure! I hope they show some improvement in season 2.
OST - the opening song lyrics is catchy... 我还是很喜欢你~~~
Was this review helpful to you?