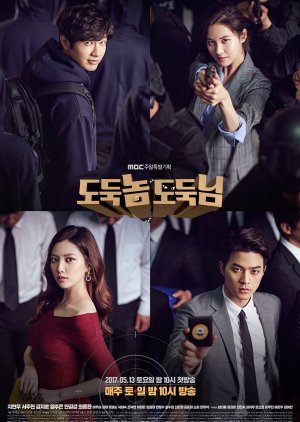 "Bad Thief, Good Thief" had many changes in the course of the plot, suffering from inconstancy of genres was not very pleasant.
The cast is their main highlight, we have great names and excellent performances, there is nothing to complain about. Composed  by fifty episodes was long, although only half of the content can be  availed, many ignored or gave up this drama because of the constant  changes of genres, as a result we have a plot twisted, confused and not  very useful, after the 10 episodes begin the drama flows in a good and convincing way.
Concluding the part of the story that tells the drama and follows  thieves that damage a small elite group that secretly manipulates South  Korea does not bring any novelty anything much less adds something.
The soundtrack merits applause by the harmonious elaboration with the background and the plot. It was sung beautifully as if it was originally made for the drama. From the beginning, it was as if they changed the plot. I thought about not continuing the drama, but it was worth it. Of  the first 25 episodes the drama is bad, but then it changes and becomes  interesting ... The character has a good growth and its development was  also good. There is not much to criticize.
If you love romance mixed with not too heavy action, this drama is for you.
Was this review helpful to you?