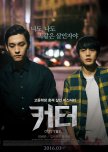 Cutter
0 people found this review helpful
Fairly interesting.
"Shall we surrender?" "We're going to get out in no trouble." These are issues addressed in this film.
"Cutter" is premised on the history of wandering students who do not adapt to the unknown environment in the strange atmosphere.
Where there are cliches of characters prevails, we have the senior Eun who is the good, bright face of the girl, distilling goodness wherever she goes. Who has little interest in the boys. This deduces that we will not see that cool atmosphere in Cutter.
Se-Joon is the mysterious and enigmatic, the heartthrob of girlfriends, the spoils relationships, responsible in the adaptation of every transfer of Yoon-Jae.
So we have little stories on the way, like Yoon-Jae needing money, Se-Joon offering a partial job ... Which in the end turns into a big problem snowball.
In general, "Cutter" though good, has a bad history, common, no surprises, was saved thanks to the other elements that combined abjurated and much. How the traumatic event used to hide ... The sad end ... The horrible part-time job ...
Good acting, renowned actors, lacked more female presence was almost all dominated by male cast, cinematography and soundtrack within the expected for such a film, it should not be a highlight but there are good songs that combined with the whole atmosphere of the film .
Was this review helpful to you?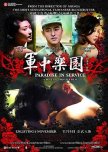 From the commercial point of view, it makes perfect sense to launch it as a recruited army from southern Taiwan that is selected shortly after arriving in Kinmen to join the elite Sea Dragons amphibious force by a hard-working sergeant major. Unfortunately, our protagonist can not swim and is promptly transferred to the infamous unit "831", also known as "Paradisein Service". There, the soldiers are served by comfort women and our leader works on the administrative side of things, never touching the girls. But how long will this last?
"Paradise in Service" offers decent performance. Approach friendship and love. A little poetic because it makes us feel like the protagonists struggle with their own demons and the conflicts of interest that face them. As an example, Pao questions his own promise of celibacy and the promise to his country.
But the character who pulls our feelings in the movie nominated for the Golden Horse is Chen Jian Bin's sergeant major. His astonishing interpretation as an illiterate northerner who is struggling to learn the dialect of Taiwan is almost shocking, as the fierce character often intimidates the soldiers with their hard front. It is his story that highlights the true tragedy of the script. A man who is forced to fight the country he once called home is parked on an island where he feels like a stranger, forced to fight against people whose accent seems more familiar, he finds a personal war. Displaced, disillusioned by propaganda, demonized by destruction and a pending tragedy with a prostitute, Chen's wonderful performance embodies Taiwan's struggle.
The film has bruised ribbons in the previous Niu gangster photo, Monga, but the one hundred and thirty-four minute film is anchored by a great deal of melodrama. Men desperately declare love and marriage, while others vie to have all women available. Larger than life characters on both sides create moody moments to catch your eye. More effort could have been put into supporting characters, including an eye-catcher (Wang Po Chieh) subject to bullying by his fellow soldiers, a prostitute (Regina Wan Qian), who is selling his body to reduce Prison and a seductive Woman (Iven Chen) who dreams of a better future seducing men with empty promises.
Generally speaking, technically polished, the film is a joy to the eyes. He benefits from the handsome role of cinematographer Charlie Lam and author Hou Hsiao-hsien who takes on the role of editing director and co-producer. In the end you will know how a war can affect life in many different ways.
Was this review helpful to you?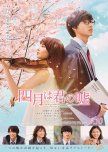 As well? Kaori Miyazono without being blonde is not Kaori Miyazono, and where is the scene of the fireflies?
Also known in the West as "Your Lie in April" is a manga series written and illustrated by Naoshi Arakawa. The manga is very good, will debut here in Brazil by Panini, the anime adaptation was made by A-1 Pictures, where it premiered on October 9, 2014 in the NoitaminA block of Fuji Television, I can also ensure that the anime is superior to Live Action, which did not totally fail to follow pretty much the original story of the manga.
Starting with the biggest of mistakes and maybe the reason for fans' hatred, was not using a blonde protagonist to play Kaori Miyazono, a shot in the foot I would say. In relation to manga / anime the live left much to be desired, they edited some scenes and parts of them, as well as in others they added new to maintain an originality in this live, which for me and many others took not only the sentimental impact as all the grace and The intense that both the manga and the anime bring, being "Shigatsu wa kimi in use" one of my favorite anime, I got pissed and disappointed with the live action, they changed to the soundtrack, alright, if not for worse, the Which was to be a melodrama, was a "dramatira" neither mine nor "Your Lie in April", appeared to be "Shigatsu wa kimi in the use of lies"!
Was this review helpful to you?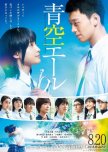 We have here the long awaited live action based on the manga "Aozora Yell" written by Kazune Kawahara.
"Yell for the Blue Sky" had no surprises, after all school dramas never really change, it's practically a cliché.
The "seishun eiga" or "juvenile film" is a Japanese genre that is not well-seen in the West, I say this, for those who do not appreciate culture, do not like drama, much less understand it, it's like talking to a rock , Then we have to ignore them. With few exceptions, these films take on a familiarity with the insular world of Japanese high school, or, occasionally, junior high school since in Japan the educational system is different.
Anyone who has seen or will see "Yell for the Blue Sky" will notice that he is not authentic, that is, culturally speaking, has a certain finger of Americanization, yet the genre "seishun eiga" offers a kind of window to the culture Japan's national, a pinch of what is the society and psyche of Japan, which other genres do not show, however internationally this is not popular, it is not well seen, one of the reasons is that, most Japanese survive high school and post High school, relatively few are those who join mafias such as Yakuza for example. Then you may be wondering, but what crazy talk is this, Yakuza, high school, what does this have to do with live action. For I say that there is everything, but the story is long, when you know a little more of Asian culture, like Japan, for example, we can find many obscurities and curiosities, which often go through subliminally by movies and dramas. Lay people may not realize it, but a movie or drama goes beyond a story ...
Was this review helpful to you?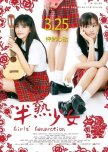 No, it's not a movie about the group, or is it, find out.
Film with a basic story aimed at the teen audience, the standards of the young girl are in agreement, I liked, above average, cute and fluffy, I liked the cast and I found the girls super cute, the boys too.
Oh, there's a little scene, yes, look at the clock, mark about nineteen thirty, Mom starts to talk and not for more, the next scene shows the clock moving up to twenty-one hours and Mom there, giving lessons Of moral to daughter, after the mother leaves the scene, the clock in the girl's room continues to mark around nineteen and thirty ...ógio no quarto da moça continua marcando aproximadamente dezenove e trinta...
Was this review helpful to you?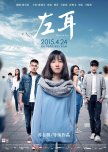 Left Ear
0 people found this review helpful
Disappointing. The drama is sponsored by Nokia, just by the standard polyphonic touch gives to know that all cell phones in the film are Nokias.
The girl has a hearing problem but I think the problem is in the brain, such a pertinacity and apemetism.
It is a film that adds no moral value, it is overwhelming, the girl is completely overwhelmed by emotion instead of reason.
Whoever attends please explain if possible, of course, that pile of thermal bottles outside the door in the middle of winter.
Was this review helpful to you?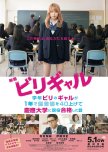 The phrase "want is power" fits perfectly in Flying Colors, which is nothing innovative but has a common everyday story and well told, just that.
Near the middle of the film there is a very famous ravine in the anime, it has served as stage for many animes, cast and soundtrack nothing to complain, basic story and well told, facts counted are reias, to achieve some success the teacher influences a lot , There are good teachers and other bad ones, another issue is the system of entrance into higher education, Enem and vestibular are archaic and that should be changed, generally the ones who most want and need can not because the wealthy and you do not even take place, And of the evils the worst those who give up means. To enter should be taken into account grades from elementary to high school, and not just a test where the student almost suffers from so much studying and in the day is not always on his best day.
Was this review helpful to you?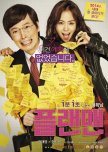 The Man Plan is an amusing measure, but it should not be, just as the staff that suffers from psychological disorders, it must be hard and embarrassing to live daily with a pathology. First and foremost, one must not ignore problems if they develop and give maximum comfort as people suffering from these types of disorders. But instead of adapting a society for not a society to adapt to them? Let's think about this.
As for the story, it was cool, well told, part of the cast nothing to complain about, a media drama, no pros or cons, just another drama.
Was this review helpful to you?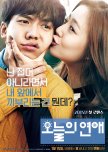 Love Forecast has a very good story, could be perfect if the protagonist had not been Lee Seung Gi, I do not know, I do not think Moon Chae Won and Lee Seung Gi make a nice couple, it could have been another.
In real life there is always a friend who is kicked around, someone who really cares but is ignored.
The film was well produced without serious flaws, except for the scene where Kim Hyun Woo (Moon Chae Won) is carried by Kang Jun Soo (Lee Seung Gi) in the next scene mysteriously presents a cell phone from the back pocket that in the previous scene was not there , Outside this is an average long, nothing innovative but very well produced and nice to watch at least I liked.
Was this review helpful to you?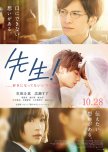 There was probably a time when this weird high school romance would have been considered acceptable. But in a social climate fraught with scandals, improper sexual conduct with minors, My Teacher, by Takahiro Miki, seems terribly ill-advised. Packed up as wish-fulfillment for adolescent girls, "My teacher" offers a disturbingly deaf interpretation of a moral dilemma that seems to encourage minors with hormones to act on their wrong impulses. Although technically well built around a pleasant harvest of performances, his premise is irresponsible and out of sync with the sensibilities of today.
Was this review helpful to you?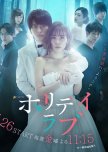 Holiday Love was well written, care was taken to make the story as engaging as possible, but above all, it had its moments of boredom, especially after half of the drama. The story had a slight drop in yield given the fact that the interminable dialogues of the protagonists increased, perhaps this is the only defect, evident that there are several small, irrelevant, the cinematography deserves attention, even with few external scenes the internal are minimalist, the effects and positioning of the cameras made the difference, especially in the edition that knew how to balance and balance things both the soundtrack and the taking and resuming of scenes, Holiday Love is a romantic drama superfluous but engaging, for those who seek a good daily drama without doubt that deserves to be on the list.
Was this review helpful to you?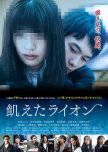 O filme é uma reafirmação repetida, reprimindo o tratamento experimentado por Harumi nas mãos de pessoas em sua vida que se recusam a aceitar sua palavra sobre as multidões que mal o fazem exibir a duração como está, sendo incapaz de extrair qualquer profundidade além do óbvio. moral dói gravemente. É difícil se alinhar com um filme cuja intenção é tão explícita e correta quanto o Hungry Lion de Ogata, mas o efeito é clínico e fácil demais para defendê-lo. Em vez de um filme que explora a dinâmica de Harumi se tornar um pária social, ele se parece mais com um vídeo instrutivo para adolescentes sobre como reconhecer esse fio específico de bullying, e que não é exatamente exibido do fundo da sala para a frente. Se eu fosse mais caridoso, consideraria uma forma impressionante de minimalismo que não retém nada em seu retrato franco do tribalismo de seu aluno comum do ensino médio, mas mesmo com sua franqueza pelo assunto, ele mal consegue ilicitar.
Was this review helpful to you?