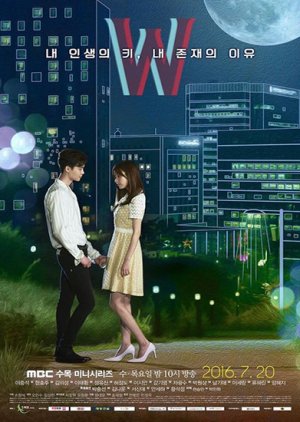 Story/Plot
This Kdrama is definitely one for the books. If you want a plot that is really new, and different from all the dramas out there, this one is for you. Never have I seen a storyline this unique. I loved the story of Kang Chul and Oh Yeon Joo. A seemingly typical kdrama pairing of a rich-guy + charismatic-gal, except they are in different worlds. I really loved the concept of the two worlds here; I'm an avid reader of webtoons and the use of it in this drama was just phenomenal. Another thing I loved about the story is the concept for the villain. It was so unique as well! I would've given the story a score of 11/10 to be honest. That's how revolutionizing the plot of this drama is. (I would explain later why the score for story is 9.5)

Acting/Cast
This is the best on-screen coupe chemistry that I have seen. Never have I shipped two people as hard as this Lee Jong Suk-Han Hyo Joo pairing. Every emotion was on point; from stranger-meets-stranger to lovey-dovey cuddling to tear jerking scenarios, these 2 are perfect. The only reason I gave this a 9 is because the supporting cast was really lacking in terms of delivery and realness. I can think of two roles in particular that could've been given to different actors and it would've resulted to a much better outcome. I think Ji-Soo would've done a lot better in terms of being that stout, untalkative bestfriend of Kang Chul. I also think Park Soo-Bong could've been given to a different actor. They are the only ones that to me looked really awkward, but that doesn't mean that the others are of the hook. Overall, LJS and HHJ really carried the score for acting and cast, but all the others pulled them down, that's why the score for this is 9.

Music
OST could've been a bit better. Aside from the main theme song 'where are u', every other song wasn't exceptional. Fits the scenes well, but not good enough to be remembered outside of the show

Rewatch Value
The plot is so unique and original that regardless of the flaws of the show, coming back to it can always be considered a good idea. Keep watching it other directors and screenwriters. This is how you make a unique show.

Explanation
The reason I gave the story a score of 9.5 was because of 2 problems

1.) Stretched storyline after episode 11 ---- The danger of creating a really unique story was running out of ideas throughout the whole series, and it was kinda evident near the end. After episode 11, episodes 12-15 looked really similar in terms of structure, flow, and what's gonna happen at the end of the episode. Just because you end the episode on a cliffhanger, that doesn't mean the viewers can't tell what will come next. I felt like the right thing to do here was to drag the happy moments between Kang Chul and Oh Yeon Joo at the start so that the rising action and climax doesn't feel as streched out as what happened.

2.) Lacking ending --- One of the main criteria of a good drama for me is being able to give justice and closure to most of the characters of a show and the plot. An example is Descendants of the Sun (4th favorite drama of all time). They allotted a whole episode to give closure to almost all characters in the story as well as close the plot. With W, they were able to properly close the plot but they failed to give justice to the two main characters for me, giving a rather incomplete-feel to their ending. The main leads were put into so much action and drama throughout the series especially Han Hyo Joo's character, who was 80% tensed up in this drama because of all the things she had to do and think about. It would've been soothing for the viewers' eyes to see their happy ending moments by at least 30 minutes of screen time, but in this drama we were only given 5-10 minutes.

Overall
This is one for the books. This is a must watch. (Actually my 3rd all time favorite Kdrama)
Was this review helpful to you?