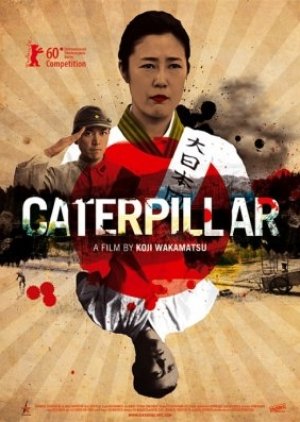 I've been thinking for some time what to write about this film but the words elude me. It's a masterpiece, and it is always difficult to cut it short because there's so much to say about it.
First let me tell you that this film is not for the faint of the heart, it is the criticism of Japanese militarism and propaganda and we all know that the Japanese did the worst war crimes during the World War II in Asia. They sent young men to the war and encouraged them to rape and torture and then they returned to their families like zombies and monsters, unable to differentiate between the war-zone and peacetime.

Yes, the graphic scenes are terrible, but what will hit you hard is the fact that all those things happened and there were many men like Kurokawa who were the product of their country's patriarchy and imperialism. We soon learn that Kyuzo is not a nice guy, before he went to war he had physically abused his wife on a daily basis for not being able to give him a son. In war, he raped and tortured people and then when he returned home as a war hero (but with horrible injuries) he was still an asshole - demanding of his wife to give him sex and her portions of food. However, he was still a victim - a brainwashed peasant

Shinobu Terajima's performance of a wife torn between her duty and disgust is magnificent. She is aware of the absurdity of her husband's state (he is reduced to a caterpillar metaphorically) but she can't just run away because everyone in the village expect her to play a dutiful wife even now. It is interesting to note how Kyuzo's father and sister were repulsed by him at the beginning of the movie and couldn't wait to leave so his wife could take care of him. All those gold medals Kyuzo received for his war "heroism" were basically nothing. Even he soon realizes that and starts refusing to look at them; a series of flashbacks from the time he raped and killed all those people drive him crazy which will lead to the tragic conclusion.

If you look past the graphic scenes you will understand the parallels between brainwashed youth and the reality of war. This film is after all the demystification of the glorification of war - there is no glory in killing, raping and torturing for your country. Everyone is a victim and the innocent civilians are the biggest victims of all.


Was this review helpful to you?