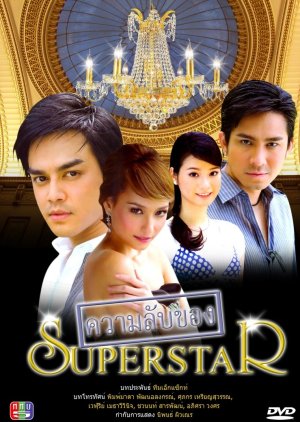 I'm watching this one again. I don't know what is it this lakorn have to attract me so much that I try my best to find this lakorn back. Probably I miss Khun Mos and I need some of his lakorn to watch lol.
This one of the top rated lakorn back on 2008. Gosh, there's a bunch of good lakorn back in the days to watch.
I like this genre as it was all about dara( actor and actress life) , include some of family and closed to dara's life which I don't really know.
I like Khun Mos Patiparn, so everything about him is perfect. His voice, his acting and even his look. Lol I can't believe he was 35 years old when that lakorn aired lol. He looks like his 20s.
I really mad at him when he see Natedao bullying Parn and just after awhile he save Parn.
Tee and Natedao play a good villain here itself until I almost thought that without them in this lakorn, the story won't be interesting at all.
Best Chanidapa as Parn is quite weak. She's doing whatever to satisfy Gun's heart as she have a crush on him since young.She just know to say "may bpen ray"( it's okay) and "khor tod"( sorry)... no matter how many times she's being bullied by Natedao.
Nevertheless, I like the story. The love story that grow between our hero and heroin also the most important thing is the moral of this lakorn. It teach how family is someone whose the most important in our live. Not the fame we chased and not money we hungry for.




Was this review helpful to you?