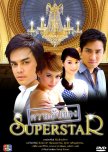 I'm watching this one again. I don't know what is it this lakorn have to attract me so much that I try my best to find this lakorn back. Probably I miss Khun Mos and I need some of his lakorn to watch lol.
This one of the top rated lakorn back on 2008. Gosh, there's a bunch of good lakorn back in the days to watch.
I like this genre as it was all about dara( actor and actress life) , include some of family and closed to dara's life which I don't really know.
I like Khun Mos Patiparn, so everything about him is perfect. His voice, his acting and even his look. Lol I can't believe he was 35 years old when that lakorn aired lol. He looks like his 20s.
I really mad at him when he see Natedao bullying Parn and just after awhile he save Parn.
Tee and Natedao play a good villain here itself until I almost thought that without them in this lakorn, the story won't be interesting at all.
Best Chanidapa as Parn is quite weak. She's doing whatever to satisfy Gun's heart as she have a crush on him since young.She just know to say "may bpen ray"( it's okay) and "khor tod"( sorry)... no matter how many times she's being bullied by Natedao.
Nevertheless, I like the story. The love story that grow between our hero and heroin also the most important thing is the moral of this lakorn. It teach how family is someone whose the most important in our live. Not the fame we chased and not money we hungry for.
Was this review helpful to you?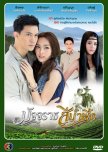 One of my favourite lakorn for sure. I'm back addictive to lakorn because of this drama and the storyline is also my favourite tho. I like older man with younger heroin storyline.
Ken T as Khun Pat is so convincing. He played the part where he mad for his deceased dead wife is so real. The feeling he bring as a defeated husband got me on his side. I can accept he is like that when he said Pueng played by Namtarn Pichukkana also greedy for money. He said what he sees is what he believe and unfortunately the timing of Pat seeing Pueng in the club bar is soooo wrong. It make him accused Pueng also like his dead wife. The one who in need of money and greedy for money is not the same. But Pat believe both are the same. That's why he really tortured his second wife which is Pueng itself.
I remember when Pueng was soo mad when she asked Pat to torture her physical too, not only her emotion. It was soo hurt seeing someone whom really self hurt like Pueng.
I really like Pueng as she really take her responsibility well. She said shes his wife now and she will do her responsibilities as a wife no matter what Pat will do to her.
Pok is crazy. Her jealousy towards Pueng last so long.
Pok and Pueng dad in here is ignorance . He's so scaredy-cat infront of his own wife. He just follow what his wife said eventually and the wife also money hungry.Shes the one that should been tortured not Pueng. But then Pueng would not even be the heroin of this lakorn.
Drama is drama. To marry an owner with perfect figured is a fantasist only. But who knows, in real life the owner of any farm would be so hot and perfect like Ken.
My last word would be this is the perfect lakorn if you want to see how beautiful nature is,the heroin is also naturally beautiful with no thick makeup,and if you like Ken, this would be one of his best drama.
Was this review helpful to you?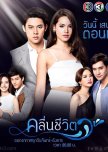 It's KC and it's mean waves of lifes.
Firstly this is not the first thai drama that make me hooked onto lakorn life. I'm watching lakorn since 9 years old and it was about 15 years ago. And most importantly, I also did watch old lakorn which was aired before I'm actually born. Haha...
One of them is Kleun Cheewit 1994.If to compared both version, Kleun Cheewit with Yaya and Mark is the best one!!!
I'm really liking both of them in this remake.Im not a fan of Mark and I'm watching this lakorn because of my precious Yaya. She nailed it. Yeah, I can say it got the same plot with Secret kdrama but then, the heroin in here are more firm than in Kdrama.
Yaya as Jee are just too precious. She nailed it whenever she need it.She protect herself from her mom and stepdad. She stand herself infront of piak and she fess up about Thit fiancé infront of Thit.But she's just a woman.She soften her heart whenever she's with the one who raise her which is her grandmother.She kind of playful and cheerful friend infront of Dao.She really make my heart melt.This is actually the first Yaya's lakorn that really making me enjoyable through the waves of lifes that she's gone through.
Mark as Sathit is just a good choice. If i want to choose any other actor maybe there are not in my mind. For me his acting are not in the top. He actually prove to me that he can improved and by time he will surely improved.I still can't feel his sadness towards his fiancée death. For his chemistry with Yaya actually are good. They both tried their best and it's good Yaya didn't stick with Nadech only.
Overall I like this lakorn.Really my type of lakorn. And thankfully they didnt make the pra'ek (hero) rape the nang'ek(heroin).Itwas such a blessfull to not hate the hero back.
Was this review helpful to you?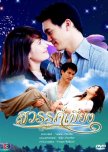 I love Ken as Kawee but I don't like Kawee!!!!
This lakorn is superb but yet still not the most superb. Not all the character is doing their job as the characters should be.
At first we know it was Kawee's father,Khun Kid.He neglect his own son and believe his third wife for whatsoever his third wife said. Like what? He didn't learn from his second marriage why Kawee behave like a spoiled child? He didn't think as a father should think.If he love Kawee than act like one.
Second is Narin's and Leela's mom. Wowwww... she really impressed me of how her ignorance on her daughters is. She should care more. Yes.. people would think she's old already and her daughter are grown up adult and know how think, what should human kind do and not. She let her daughter marry someone who's the same age as her and also she agree upon staying with leela also. She should know well what the stepson of her daughter would think? I can't believe they make a mom characters but not doing a mom's so called responsibility .Well it's a drama tho. But people learn from drama. Gosh...
Leela? I 'like' her character in her tho. Not as a kind sister who take care of her family but as a divise woman on a father and a son. Her jealousy are on the top.She's married yet she want his stepson? Well thats crazy. Hahaha. I know she's been hurt by Kawee but please behave like a stepmom should. Hahaha... Whatsoever I like Leela's character from 1988 SB version more. She care more on Narin's more than herself.
As for Narin, i know she's stubborn on Kawee but she should be more stubborn than that. She should really teach Kawee what's the best revenge is. I like Narin in 1988 version where until she gave her birth,she still not accepting Kawee. She's really ignore Kawee like half of the drama.Even tho in that version Kawee is less abusive than in 2008 version.
And last is Kawee. I know he grown up as a spoiled child whom father remarried for two time. I know it's hard for him to accept but still how can he be more jerk like raping the heroin so many time? He's already a cocky Kawee but it made him no more less to be forgiven.Did he really need someone else love by doing that? He should think wisely. Really wisely.
As for the acting i know my Ken T act well. I'm mad when he's a jerk and cry when he really need someone to pat on him. I do like him and Anne too but seeing them in so many lakorns together.. like no more sparks or butterflies in my heart.lol.
Anne's acting are actually good but sometime i think she overdo it.She does look older than Ken.I mean matured than Ken.
Overall I cannot say i dislike this lakorn. It's huge and got highest rating when it's aired. People are crazy over this lakorn back in that time. There are people liking it and not liking it because of the rape.But, no more rewatching this lakorn. I write this review also based on what I feel watching this one before.
People should know that this is from novel on 1970 and was made into movie and drama. This one is the third remake on drama one.Starting from 1988,1998,2008 and 2018 should be the year they remake this already. But, no remake on 2018.Haha...
From all those version, I like 1988 more. The one whom make Kawee which is less abusive and Narin which more stubborn.He made Kawee and will always be Kawee.
Was this review helpful to you?