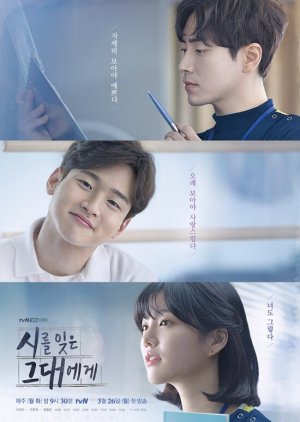 There's nothing in a poem
Apart from what remains of our lives.
What remains of our lives always meets us
In a way that is not at all remarkable.

Though you might not wish to believe it,
It is not at all remarkable.

At its core, this sweet little drama about physical therapists and other people who work at a hospital started as it ended – as a quietly-joyful slice of the ordinary.

Lee You-bi is truly delightful as Woo Bo-young; a contracted physical therapist who wants a full-time job and love in that order. Bo-young finds herself in the middle of a love triangle that launched a full-scale shipping war while the show aired: will she choose the urbane, professional Dr Ye or the childish first love Min Ho? But in the end this show is not about romantic attainment or who ends up with who - rather it's a beat in the lives of ordinary people. And it's in that beat that we find the poetry in the average human soul.

With an alternative - and preferable - title of You Who Forgot Poetry, this is a show about the compromises people make to make a living and the need for us to retain our original aspirations in our lives. As people who opted for a steady, safe income over their dreams, most of us can empathise with the underlying concept of poetry as a metaphor for romance in a petty, silly, vainglorious world.

The show has lots of quirky humour in the vein of a more-subdued Scrubs and elicits its fair share of laughs at the general absurdity of life. But it's in its overall message - that the ordinary can be poetic - that this show is quietly and subtly beautiful in a way that is as unexpected as it is joyful.
Was this review helpful to you?