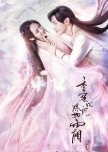 This review may contain spoilers
This is my first review ever, so... Let's start!
I've completed this drama in less then three weeks which is quite short time (for me) on the drama with 63 episodes. I've planned watching this drama for so long and i find it really interesting. In this show wasn't the only episode that would bore me, the story went smoothly, actors were amazing in theirs roles, costumes were gorgerous... This drama has everything to have! And will awaken all your emotions inside you. While watching it I cry, laught, I felt uncertain, amazed and heartbroken. Sometimes dramas was boring after few episodes but Ashes of Love has plot which will keep you in tension and you want to see more and more.
The environment and backdrops give the show more of a beauty (backstage for a while reminds me a fairy tale Tinker Bell). Also costumes! Especially the Xu Feng's god of war costume. Really this one is my most favorite from this show. I read there is 3,000 pieces of clothing in total, so the male and female lead had around 30 costumes each. Music is too well done and I was surprised when I found out the ending was sung by Sa Dingding who plays Yuan Ji.
They are also two of my favorite actors! Deng Lun and Yang Zi.
First time I saw Deng Luns acting was in drama Because of You, he is my favorite actor and in Ashes of Love he didnt disappoint me. In his role as Xu Feng with his unyielding character catches my eyes again. In this drama he is the Fire Immortal/Phoenix, he is a bit arrogant but he can forgive mistakes. He have a "evil" mother and I think Deng Lun has destined to have this type of mothers in dramas (in Because of You he have also evildoing stepmother).
Yang Zi as Jin Mi is also beautiful character. She is the half elf who wants to see the world behind the barrier. Her character is little annoying, but her role only added to reality. She reminds me of Shan Shan (Boss & Me) with her appetite and love for food. She is the daughter of the Floral Fairy (the ruler of the Floral Realm), but this information about Jin Mi's birth had to be keep in secret. Before Floral Fairy died she created a magic barrier to protect her daughter from contact with the outside world.
The twoo main hero of this drama meet by chance, when the barrier is broken by mistake by the Xu Feng in his Phoenix form. Seriously injured he is saved by Jin Mi with her magic honey (but only after she wanted to make soup from him). He wanted to thank her for saving his life, so he did. As she had wished for many years, he free her from her prison behind barrier and Jin Mi becomes his reading asistant in Celestial realm.
Ours two main hero save life each other so many times and the relationship deepened between them. "I have really fallen for Fairy Jin Mi". These words say Xu Feng to Chief Zhang, after Jin Mi save his life.
There are also Run Yu/Night Immortal, the eldest son of the Celestial King. He is very close to Xu Feng/Phoenix. Despite their parents, the two half-brothers share a strong bond. Their relationship is so well done, they dont share the same mother, but they are very close. But relationship between Run Yu and Xu Feng will begin to sharpen when Jin Mi (like daughter of Watter Immortal and Leader of Flower Realm) becomes Run Yu's fiancee. Run Yu own the digital animal, white deer, which didnt eat grass or grain, he eats only dreams. First I saw this kind of stuff in drama Legend of Fu Yao and I found it so adorable.
I also like Moon Immortals character. He is so cute and childish! But I really dont like the Sui He/Peacock Immortal character right from the begginin. She is naughty and jealous of Jin Mi, also helps Xu Fengs mother with hers devil plans. I'm in love with all actors and characters in this drama, they acting skills were perfect!
So... I would end my rewiev like this:
"Phoenix flower only blooms in twoo seasons. One season for when destiny begins, the other for when destiny ends." I think this is the most memorable sentense in the whole story.
This drama is definitelly worth watching, i love the whole story. I think Ashes of Love is the best wuxia drama of year 2018 and I cant wait for season 2!
Was this review helpful to you?