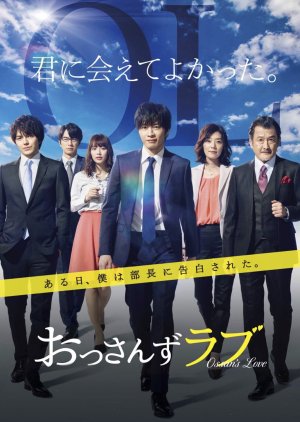 Ossan's Love mainstream television drama , it was first aired in 2016( so quiet no one notice ) only one episode that no one even know about even now....but with the asian bl wave in 2018 everyone hear about the second round . almost the same story line but stretch into 7 episodes. almost all the same actors (only one replaced unfortunatly couse he was better)
I watch it when it was on stream with english sub , waiting for every episode to upload with huge enthusiasm. and i'm not the only one.
The main actor Tanaka Kei is -absolutly amazing!!! this actor just makes this little drama for what it is and there's no doubt about it.
on the other hand Hayashi Kento is so so , not convinsing and even annoying, he have the look of (excuse me) a villain like his previous role but not someone sweet and gentle like the character he had to play here ...it didn't work. the gap of the acting made his mark and it could be a lot better .
Another point is that i feel the main lead didn't take action even at the end, he never develope or change ever so slightly, so there isn't any depth of the characters it's like a 3d manga
overall it was satisfaying at the time i watched it and with a sweet moments ..i think the bl Jdrama could be alot better if they didn't use the effect of comedy , because the Japanse don't want to deal with the LGBT community they make it look like exaggerating comedy or manga while they have straight high quality dramas with depth this was too much for my opinion.the hype was because it was bl Jdrama ...we don't see it often and it's rare, even so you should watch it to support this and maybe we could see more of that kind and better!!!
Was this review helpful to you?