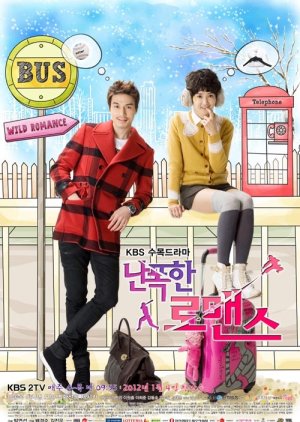 So there are various reasons why I gave this drama a lower score than others I have reviewed in the past and here I'll try to explain why!

STORY and CHARACTERS: The story started up pretty good! Tomboyish girl who falls in love with her own "enemy" who she has to take care of as his body guard, In addition there's the mystery behind someone stalking Park Moo Yul and trying to figure out who the stalker was kept me interested until the end!

Eun Jae's character is lovable and cute, I had no issues empathizing with her and I love that she was always true to herself and didn't change who she was.
 Park Moo Yul on the other hand was a good lead. I mean, don't get me wrong, I love Lee Dong Wook as an actor and he was the reason why I started watching this drama in the first place but there was something about his character that didn't make me fall in love with him.

The love story, oh! The love story! (and here's the main reason why this drama ended up disappointing me so much!) The title and picture cover mislead me as the relationship between the main couple is anything but a "Wild Romance". I had no complaints with the ex-girlfriend coming back obstacle in their relationship but after a couple of episodes,  it  started infuriating me and ended up making me feel so frustrated  that the only thing I wished for was for Eun Jae to just leave and move on with her life and continue been awesome as she already was!!!

There was zero tension between the main couple making Eun Jae fall so back behind that I almost forgot who the female lead was and I questioned myself several times if PMY really liked her enough to give up on his past and chose her since he treated her as a boy/younger brother most of the time, even until the end making it so unfair for Eun Jae. The struggles between Park Moo Yul and Yoo Eun Jae get resolved so easily and out of nowhere that it just lacked any emotion and feelings of relief/happiness of finally watching the main characters managing to overcome all obstacles and be happy together!

Kang Jong Hee's character (interpreted by Jessica Jung) was pretty good and intriguing, like a cute psycho/depressed Barbie doll which I ended up loving and hating. There was several times where I could totally get her and others where I wanted to just throw here out the window!

On the other hand, there's the romance between the supporting roles Kim Tae Han and Kim Dong Ah which made it up for the lack of romance between the main leads. Their love story is absolutely beautiful and they are so cute together that I couldn't help but feeling excited every time they came to scene giving me the lovable/cheesy/heartwarming moments that I was lacking. Their relationship was the perfect depiction of opposites attracting, they complimented each other so well!
 
Jin Dong Soo and Oh Soo Young's story started up pretty good and kept a good flow until the end though there were parts where something stopped making any sense since it (and then again) gave more importance to PMY and KJH relationship leaving Eun Jae in the shadows. Besides, the way Jin Dong Soo and Oh Soo Young started acting and the excuse behind it wasn't that convincing, at least for me!

ACTING/CAST: I think the casting was well put together and the acting was overall good and convincing. The actors/actresses delivered a very good performance and kept the emotional rollercoaster going throughout the story. So I have no complaints with that at all!

MUSIC: I liked the music and it complimented the happy/sad/intriguing moments pretty well but on my personal opinion, it wasn't outstanding or catchy like other OST's I've heard before.

REWATCH VALUE: Since the end of the story was somehow disappointing, rushed and emotionless, I honestly wouldn't go through all the drama again for nothing!

OVERALL: In conclusion, I wouldn't say "NO!" to recommending this drama as there are several elements in the show that doesn't make it unbearable to watch but I would totally tell people not to expect a lot of romance so you don't get disappointed!



Was this review helpful to you?