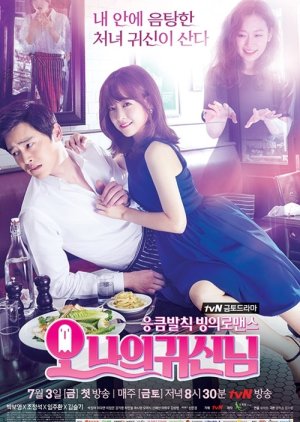 I don't even know where to start with this one. SO GOOD.  Ugh the romance is amazing, the cast is amazing, the writing is amazing and the music is perfect. Oh and it's hilarious.

I'll begin with the cast because they have so much to do with this drama's success. Park Bo Young clearly does a hell of a job in this one. Not only does she portray one character so well, but two. The way she switches between characters is exceptional. She easily made it onto my favorite actors list. I love the energy that she played Soon Ae with and she's so cute that even when her character was being super over the top she was super lovable. Yet, she could become the painfully shy Bong Sun the very next moment and just make you wanna shake life into her. Kim Seul Gi I had seen in Flower Boy Next Door before this but she had such a small role in that I really had no idea what she was capable of but man she's impressive. Her character Shin Soon Ae, had me crying on so many occasions and her character's bubbly persona, even when she was being mischievous, was fun and eye catching. I felt for her character so deeply and a large part of that is because of her powerful acting. Now to Jo Jung Suk. Okay, well I'm a huge fan of his so of course I love him, but I'm a fan because he's an amazing actor. His character, Kang Sun Woo, is insecure while also being full of himself but also has a lot of integrity and passion. Jo Jung Suk portrays his boyishly immature and admirable charismatic character perfectly and even when other cute distractions arise aka Cordon ;), he still shines and I always looked forward to his presence. But that's the great thing about this drama, I couldn't wait to see all the characters. The kitchen crew omg don't even get me started. So funny. And funny in a natural way. I didn't feel like they were trying to make me to laugh, but rather that they were just being goofs all on their own and I just happened to witness it. Min Soo (Sous Chef) was an amazing supporting character and Kang Ki Young played him masterfully. Cordon, played by Kwak Si Yang, is another character that really intrigued me. I liked that he never actually became a "second male lead" but that he was just an extra sweetie and solid voice of reason and stability when other characters got too crazy. XD Instead of taking away from the funniness and antics of some of the other supporting characters, he just added to their funniness by being so level headed and darn sexy. Im Joo Won also did his character Seung Jae justice and he had me legitimately scared sometimes. All the cast was amazing but I won't mention them all as that would take all day.

The story: I loved the story. The characters are developed very well. Even if you don't like some of the characters at the beginning, the writers do a wonderful job of not suddenly, but consistently integrating the backstories and character growth in a timely fashion in where you don't feel overwhelmed. The writing and directing are well done. The pacing throughout the whole drama is kept very well and everything is presented at the perfect time. Therefore, you don't get too confused with too much information and you don't get bored from a lack of information. There's always something going on and any side stories and backstories are snuck in so naturally that I wasn't ever like, oh great, or, here we go again. I enjoyed every scene while watching it and even if I always looked forward to the main characters scenes, I never wished for other scenes to be cut short. What I think is done exceptionally well is the combination of genres. The romance and comedy go great together but even when this drama goes down very dark roads, it fits so well. Most importantly though, this drama never got boring and never dragged. I was also thoroughly invested in this drama until the last moment in which I cried cause it was so beautiful. Also, the supernatural spin in this was the perfect twist. I like when dramas have that one little twist that makes them unique and the ghost possession creates much excitement and intriguing conflict. If you're scared away because for some reason you didn't like other dramas with the supernatural tag or with ghosts, then don't be. This drama is unique in it's take. This show also makes  cooking seem like a lot of fun and I've never even liked cooking cause I'm lazy as heck.

Music: I always find orchestrated music very emotion evoking and the instrumentals in this drama are so lovely and intense. The music is what really pulled the emotions out of me alongside the impeccable acting etc. I still listen to the music tracks in this drama and I've watched it three times. Oh and Jo Jung Suk's song in this is ahhhhh! <3

To me, the very few amount of flaws this drama has aren't worth mentioning and even at my most objective I don't think I would give it lower than a 9. A good drama is a good drama and that's just what this is.

Overall, you should watch this! This drama impacted me on an emotional level in many areas (laughter, crying, fear, excitement) and if you like romance and comedy, regardless of ghosts and the supernatural, you'll probably love this. At least I did.


Was this review helpful to you?