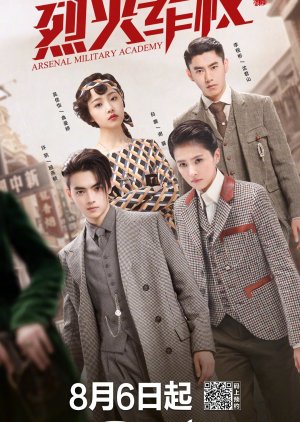 I mainly watch this because of the leads but eventually quite likes it. I have like Bai Lu since 'The Legend' and of course this couple too so I would't miss another show with them on it. I usually don't watch drama within this period of war time. I just don't prefer it but I give it a shot for Xu Kai and Bai Lu. I honestly don't expect much considering the synopsis is a cliche one. Maybe because i didn't expect much that it is better than I thought it will be.

Story wise it is nothing new. A girl act as a guy and went to a guy school (not just any normal guy school, this is military school we are talking about). It doesn't make sense how it can happen but oh well this is a drama after all so yeah let's just skip the usual logical sense. Then the main lead knows her true identity and falls in love with her, helping her along the way and always protecting her etc. Although the story is typical but the characters are not. I really like how GYZ's character is written. Funny, smart, loyal, handsome (Basically all the good traits) but also mischievous and playful like a child (sometimes over the top lol). However this is how all the funny scenes happen which I find it really entertaining and not forceful type of comedy that makes me roll my eyes. This is another reason I like it because in between all these action, serious, scheming plots and conspiracy especially during world war times when Japanese army are evil and people are dying everyday, these funny scenes can relief the tension and make the story fun.

As usual, there are plot holes but it is not that serious so I just ignore most of it. I also like that XLC or XX (Bai Lu's character) is a strong woman with brain lol Although guys are always helping and saving her most of the time but she can still stand on her own and get stuff done so it is not those typical damsel in distress character. As her character is acting as a guy, she does it really well. I should say her stylist is good too as she looks great both as a guy and a girl. Nothing much on the story cause during this period is when a lot of rebelling happens, they want their country back but it is not easy. A lot of other countries such as Japan, America, Russian or German are trying to take over and they fight for it with a lot of killings or scheming. Luckily they didn't go with the main leads saving the country story like the usual drama in which the leads always ends up saving the country etc or maybe the history doesn't allow but anyhow they keep it real most of the time.

Acting/Cast is great. Aside from the main couple, I come to like the side characters too. There are quite a few love triangles but I am okay with it because they are clear with who they like and not indecisive who they actually like and go back and forth. At least they don't prolong too much on that and no evil schemes trying to harm the other person that their partner like or something except the antagonist lol. QMT's character is really funny too and I like her a lot along with other classmates from the school and XX's best friend. At first I do feel slightly annoyed with Lee Wen Zhong's character but his character bring laughter along the show and in the end quite likable too so it is okay. STB character is so faithful and I am starting to take note on this actor haha he do looks hot. Director did a good job casting these actors and actresses to their characters and all of them did well. Moreover, Xu Kai and Bai Lu's chemistry is on fire. They act so naturally with each other and brings out their character well. Big part of me liking this drama is because of their chemistry so i guess my review might be a bit biased xD

But one sad thing is they don't really have too much romance scene. You should be warn that there are NO Kiss scenes at all. The most they did was just hugging and holding hands. It is sweet too but as their fans I want more :(
The ending is just somewhat satisfied.

Music is okay. I like all of their OST including open and ending song. One of them is sang by Bai Lu and Xu Kai themselves although it does feel a bit too much of autotune. It sounds nothing much like their voice but the song is nice. However the songs are not use much in the drama. Most of the time are just normal background music that you hear from other shows.

Rewatch value is quite low cause i don't think i will rewatch it unless for some of the main couple's scenes and the story didn't intrigue me much. One thing for sure is that at least it is not too boring. I would give this an OKAY. The story turns out better that i expect so it does boost up some points and I have always like the main couple so I am a bit biased. Other than that nothing much that leaves a big impression.
Was this review helpful to you?