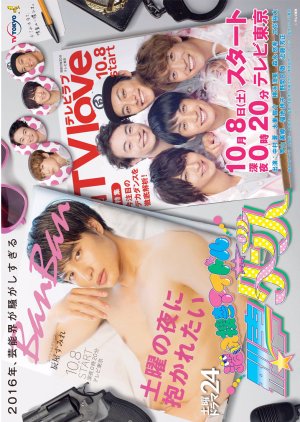 This review may contain spoilers
This drama is so much more than a comedy. I've never seen a show with such depth and creativity as this show has proved since episode one! This story is very unique with a few predictable plot points, however, I can promise you that I could not predict the ending and the entire show was written and performed so fantastically well that not one bit of time is wasted.

If you believe this show to be a strict comedy/parody of detective or idol shows, then you're sadly mistaken and will definitely miss out on a wonderful show! This show is, without a doubt, one of the funniest series I've seen, though comedy is not all this show is. Within each episode is about 50% comedy and 50% heart. The reality is that this show is, in fact, a detective drama; even so, it's still a complete comedy drama and lives up to that genre completely; but the other 50% of this show is complete heart, and is something truly amazing to watch! Not one minute of this show is wasted, each moment of the story plays out so perfectly well that it's almost like it was real. Watching each member work their hardest and to see their development over time as idols, actors, policemen, band members, and friends was very wonderful to watch. You can see each actor and actress' talent, hard work, unique traits and personality, and honest love for their job and for this show.

It was also nice to see Nomaguchi Tohru in a different role than what I'm used to seeing him in, in fact it was so surprising to me that it became one of the reasons why I continued watching. However, that isn't to say I didn't like anyone else in this show; to be honest, I like all of Decadance's members and I'm very interested in a few more actors and actresses. Either way, this show is not one to miss! If you pass this show up thinking it's just a comedy show, then you're very sadly mistaken.
Was this review helpful to you?