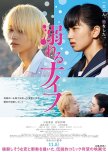 Story:
Although the story can be confusing at first since it is very fast paced, it slows down as the story progresses, and makes more sense after understanding the characters. The story is heavier, and has a lot more dept than regular Shoujo live-actions, which I personally enjoyed. There are some touching scenes throughout the movie, especially at the ending.
Acting/Cast:
I was not a huge fan of Komatsu Nana's acting in her past works, but she improved so much in this movie! There are a few parts that are still a bit awkward, but her acting is overall pretty good in this movie. Suda Masaki's acting is always great, and once again, he did not disappoint me. He really embodied the character, and truly won me over by the end. I read somewhere that he lost a lot of weight for this role, and weighed around 50kg, which is crazy for his height! Overall, I really liked the chemistry between them since they have a similar aura.
Music:
I LOVED the music, and I thought that it went well with the movie. I downloaded a whole bunch of the songs after.
Overall:
I honestly love this movie so much. It is fast paced in the beginning, but everything fits together by the end. This is definitely different (in a good way) from regular Shoujo manga live-actions, but the scenes were filmed so beautifully. Overall, I loved the main characters and the chemistry between them.
Was this review helpful to you?