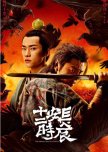 This can be hard to get into if you do not like to wait for a backstory; however, the character backgrounds were well written and it embodied what the spirit of the drama.
With each episode at 30 - 40 minutes a pop, this is easy to binge watch.
Speaking of watching, the subtitling Gods and Godesses thought enough of the Amazon Prime users to give us the whole season complete. Viki is catching up, but again on Prime it is complete.
If you make it to episode 10, then you may as well watch the whole thing because curiosity will kill the cat, and only viewing satisfaction will bring it back.
I do understand that my review does push for viewing, but to really understand what you are getting into...you gotta see for yourself.
Was this review helpful to you?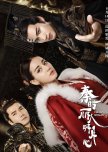 This review may contain spoilers
(Spoiler) If you have watched Haolan BEFORE watching this...like I did... you will be instantly mad and confused.
So I never do long reviews because I simply cannot describe in full flair what is going on, but I can tell you this: every single one of these episodes could have easily been 30 minutes long, that being said...this is a flashback drama. Storyline gets to going real good...then poof back in time.
The female lead finally has a role where she is not acting like a timid joke (mind you this is my opinion and I prefer a stronger woman instead of Juanita Sausage-Head), and the male lead is strong as expected...funny thing is in the (spoiler) love trio one would think that baby daddy would have more of an aggressive feel and look considering history's telling of this man. My insignificant opinion, the Eldest Han Shan should have had the Jing Ke role and vice versa...dude needs some man weight on him.
Was this review helpful to you?