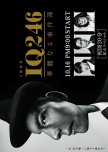 Sharaku(Sherlock) Homonji(Holmes) & Maria T.(Moriarty), The cases and the plot, So basically it's a Japanese remake of Sherlock Holmes but very distinct. They adapted it so brilliantly that very few people actually noticed it, and even if you've watched the Sherlock Holmes TV Show it would still be a whole new show to you. Even though a lot of the cases are similar to Sherlock Holmes cases it was executed in a very Japanese way, and it hardly had any resemblance to Sherlock Holmes in accordance to character portrayal.
I loved Oda Yuji's acting, specially his accent and his little over the top acting, It was very Japanese to say. They didn't try to replicate Sherlock Holmes they created their own. The casts are excellent, they had some famous Japanese actor as guest actor in a lot of the episodes, if you've been watching JDrama you'll know them for sure.
The show's comedic value is really high too, You'll get to laugh in every episode. The show isn't very tense it's light enjoyable, like Sherlock Holmes it doesn't show some really complicated case and a really superficial way of solving them. In this show everything is just the right amount to let you have a really fun time.
Was this review helpful to you?