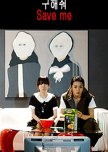 Save Me
4 people found this review helpful
I'm a huge Kim Jae Wook fan so I decided to watch this.
I watched it without subtitles because it was short and they didn't talk that much and it was quite easy to understand.
This is an interesting and intriguing story and I liked the love story between the characters which seemed very absurd but somehow even cute.
It's quite different from what most people are used to but you should give it a try.It's not a waste of time and even if you won't like it 10 minutes are not a big amount of wasted time ;)
Was this review helpful to you?
This movie was slow,dragging at times and it seemed that the main characters didn't know what they were doing...at all.
The story could have offered so much more but it felt like it was cut off.
The ending left me not only unsatisfied but also a little bit confused.
The acting was good,especially the younger cast did quite a good job,but sadly-and I don't know if it's because of the lacking story line-I couldn't really connect with the characters well enough to get emotional about the things that happened to them.Thus I felt really unaffected by their whole story.
At times I was just very bored as there were a lot of things which were more than predictable and this movie had a lot of elements in it typical for Japanese melodramas.
I didn't really focus on the music while I was watching it.It seemed to fit the mood of the movie though,from what I can remember.
I wouldn't rewatch this.It's one of those movies you will easily forget because it just didn't affect you at all.
If you're bored/not in the mood for anything uplifting this movie will make you feel even more bored and may leave you feeling annoyed or even a little bit depressed.
It's not a movie I would recommend but at the same time it's not THAT awful.
I think it's up to you to decide whether you want to give this a try.But you'v been warned: this can be quite a waste of time.
Was this review helpful to you?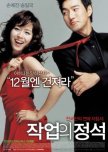 This movie is really funny and hilarious.I enjoyed it.It is a light movie and I would recommend it for everyone who either has nothing else to watch or enjoys watching comedy.
The acting was really great and there were really funny scenes.
The story may not be that original but it was well executed.I actually didn't pay that much attention to the music but there were some funny old korean songs.
Since it's a really light movie the rewatch value is quite high(in my opinion ;) )
Overall I really enjoyed this movie.The ending could've been a bit better but the rest was fine.So it is definitely worth watching.
Was this review helpful to you?