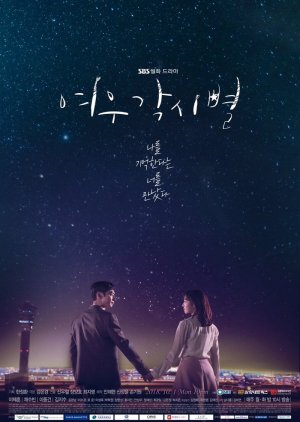 This review may contain spoilers
So I almost didn't even watch this drama but it just so happened, when it started, I didn't have a lot of dramas to watch so I went ahead and clicked play...I was pleasantly surprised. It wasn't at all what I was expecting. Sure it had flaws and some parts got boring but overall it was a sweet and cute drama.

STORY: When I first started watching this drama, I just thought this drama was just going to be about employees at the airport but BOY WAS I WRONG! The writers really took me for a loop and threw in a lot more than I expected. Now I am not going to reveal the huge secret of the storyline because you wouldn't need to watch the drama but I still want to talk about minor storylines, which is why the spoiler alert is in affect. One of the downers of the drama was some of the storylines introduced in the drama. I didn't think some were necessary and some even overshadowed the main lead's story. I didn't see the point of the entire gangster storyline. I think it just added unnecessary angst and I felt like it didn't need to be there. I also felt that some of the storylines were dropped halfway through and never picked up again such as the whole thing with the main lead girl's father...We still don't know much about him. I also don't understand why we didn't see the main male lead at the end of the drama...what was the point in that. Not that it made the ending disappointing or anything, it was just again unnecessary. I also think it could have been less episodes than it already was...maybe like 12 or 14. The drama started out as a workplace drama with a light feel but gets bogged down by unnecessary angsty storylines.

ACTING/CAST: I think the best part of this drama was the characters and their journeys/growth throughout the drama. I also liked that it wasn't just the main leads that had interesting storylines and growth but the supporting cast also had it. I think that made me love the drama even more because I grew to love the support characters as much as I loved the main leads. Granted I will say, I was more invested in the main leads separately than together...not that they didn't have chemistry or anything, I just liked them separately and how they grew separately throughout the drama. The security couple were cute as well. I LOVED LOVED LOVED Lee Je Hoon's character in this drama and his acting was amazing! That man can put so much emotion on his face, even if it is just in his eyes. I loved him in this drama. He was my favorite.

Now there were 2 characters that I absolutely hated and still sort of hate even when the drama is over. I HATE HATE HATE Lee Dong Gun's character. I saw no reason to make him so mean AT ALL! I also was not fond of Ro Woon's character. Maybe it was because I absolutely loved Lee Je Hoon's character and he was just mean to him too. (Let's be honest, I was watching this drama for Lee Je Hoon haha)

MUSIC: I loved all the OSTs of this drama...listening to them on repeat.

REWATCH: I probably wouldn't rewatch the entire drama again but I might choose scenes that I loved to rewatch

OVERALL: This drama is just a warm and cozy drama to watch. A relaxing drama to turn on after a long day because you come to love the characters and the characters really make the drama special. Don't need to take it to seriously, just a nice relaxing drama with loveable characters and a unique storyline.
Was this review helpful to you?