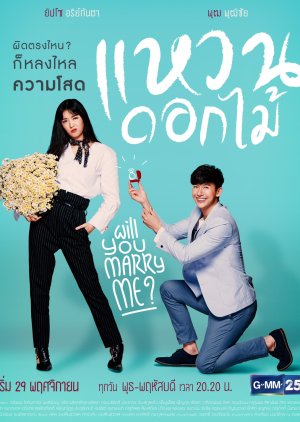 Romantic comedy drama has always been my favorite since God knows when. First and foremost, Gypso is my favorite Thai actress since her drama with Puttichai in I Want To Be A Superstar. I definitely gotta give her "The Queen of Rom-Com". Suits her the best. Their chemistry in the previous drama is as good as this one. Somehow the drama is not as catchy as the previous. I can't help but to compare both drama. Overall, it's not bad at all. I gotta admit one thing. I skipped scenes because I felt the drama went kinda draggy. It felt somewhat like I'm watching the movie, The Proposal. It's not the same at all but its somewhat felt like that. Well, you can disagree with me but that's my opinion.

Another thing that I like about this drama is the characters. My most favorite character is Waen's grandma. She's the coolest ever. She's very understanding and super supportive of her one and only granddaughter. Lucky Waen to have an amazing grandma like that. For that, I give two thumbs up (ten if I have more thumbs :P). Plus, she's very bold and daring. Good thing Waen got that side of her grandma in her.

The least favorite is Sing's dad. I can understand that he's being quite old school and traditional type but sometimes he need to give some space for his kids to grow even though 2 of them are married. It's not always perfect with marriage. Its understandable for the father wanting a happy marriage but its always good to give some time and space for the whole family. He's not a bad father at all. He's concern and being responsible for his kids after having to lose one in the past. Perhaps he doesn't want the history to repeat itself again in the family. Good thing Waen's grandma gave Sing's dad a piece of her mind before he regrets it.

The grandkids are so cute especially Tuktik. Poor kid have to listen to the shouting and screaming. Its happy ending for Tuktik and her parents too, that's the beautiful part. Cookie is the most calmest dog ever. That fella is a cute dog too. My other favorite character in the drama. LOL! Anyway, the drama has been wonderful especially on Waen and Sing's parts. The rest I'm not too sure. Apart for the rom-com parts, I can say its the typical family story where you and I can see in reality. Happy ending to all. :)
Was this review helpful to you?