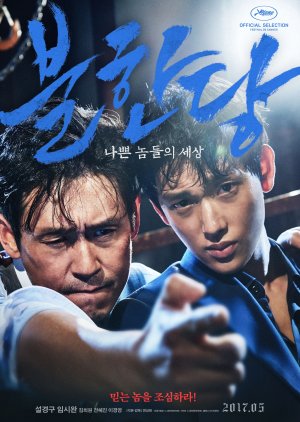 THE MERCILESS always excited me from the beginning; the moment I found out that it had Sol Kyung-gu in it, and that it was an action movie which was officially selected for Cannes Film Festival, I waited for a proper digital release. I watched it last month and had got up from my seat with a feeling of pure satisfaction which only exceptional movies give me.

THE MERCILESS or BULHANDANG is a highly entertaining action movie. It is an exceptional film which combines action, drama and unpredictable plot twists in an unprecedented manner.

The director for sure has done a great job in extracting the best out of his cast as well as crew. The film really delivers on every front: be it the technical aspects or some other, the film rarely lets one down. It's not a boring film, as right after a decent setup in the early minutes, the film starts delivering knockout action sequences and plot twists very well.

Im Si-wan is the star to watch out for in this film. I watched him only in THE ATTORNEY which was a powerful social drama. In this particular film, he does a lot of action and delivers a solid performance. Sol Kyung-gu: don't know why I always run out of words when it comes to praising him! His act is straightaway an award-worthy one. His crazy laughter adds a lot of fun to the proceedings. Other actors like Kim Hee-won are also very impressive; he adds a great comic flavor to this somewhat dark film.

The film impresses with its well choreographed, violent action sequences which stand out as a major highlight of the film. For sure, there is a lot of bad language used in the film which is enough to put off a lot of viewers, but as it progresses, this no longer remains an issue. The atmosphere built by the director and writers pulls the viewer in it and makes him feel like a part of the narrative. The ways the feel gets darker in the second half without getting melodramatic or boring is perhaps one of the best things about the film.

THE MERCILESS is a masterfully crafted action film from South Korea which effectively entertains the viewer with the best stuff it has got. Also with an outstanding climax, the film makes sure viewers don't soon forget it.
Was this review helpful to you?