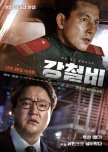 Positives:
-The performances of the two lead actors Jung Woo-sung and Kwak Do-won are excellent, and the relation they form is a delight to watch.
-The visual and technical aspects of the film are top notch.
-The action scenes are shot and executed very well.
-The emotional aspect of the film has been dealt with very well.
-The film is very gripping thanks to the excellent story and crisp editing.
Negatives:
-The film could've been slightly shorter.
Repeat value: Yes
Undoubtedly, STEEL RAIN is a masterfully crafted action film which is a must watch for all!
Was this review helpful to you?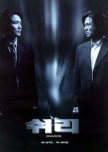 Shiri
0 people found this review helpful
The basic concept of CTX is extremely impressive.The lead actors Suk-Kyu Han, Song Kang-ho and Choi Min-sik steal the show with their powerful performances while Hwang Jung-min too impresses in a cameo.The background score and sound effects are very impressive.The action scenes are well choreographed and also entertaining.The film has good production values.A lot of plot twists and thrills are pretty impressive.The climax is excellent.
Negatives:
Yunjin Kim's performance is just fine, and for the most part it's not very impressive.Even though the action scenes are decent, they are not filmed very well. Too much of shaky cinematography during a few action blocks spoils the impact slightly.Editing is another major negative as the film could've easily done away with some 10 minutes. The romance subplots only add to the length. It was difficult to finish this film in once only due to the editing.
Repeat value: Can't say
SWIRI is an entertaining action film with some decent plot twists and overall entertainment, and further worth seeing if you love action films. But that factor too can act slightly negative since the action scenes are just fine and don't really hold a repeat value, though a few action blocks are done excellently too, at the same time.
Was this review helpful to you?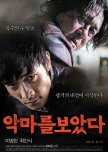 I SAW THE DEVIL is a kind of revenge story that one would hardly have seen before at all. It's really very gripping from the moment it begins. One gets to see the bare minded madness of what one can do. Sadly, since in India we never got exposed to such films, the initial reaction was "it's amazing but too explicit." But as I realized the real intention behind this film, I found I hadn't exactly seen the real intention of violence, profanity etc too. It intended to show everything realistically. And that's why it engages you fully.
The film has some minor flaws, perhaps not really flaws because they don't hinder the progress the film makes from the beginning. But really, a few sequences needed to be a bit shorter and a few subplots could've been avoided. But what takes over these flaws is the performance by the lead actors, Byung-hun Lee and Choi Min-Sik. These two men drive the story to an extreme and keep you interested all the time.
I SAW THE DEVIL is well adapted and executed by its director Kim Jee- Woon. I don't have problem with violence, since I have been habitual of seeing such kind of violence in many action movies and being an action film lover, I couldn't resist myself from watching the fight scenes again and again. But due to the excessive obscenity in a few scenes, I recommend it's better to watch this film alone or with someone of your age group who is interested in such films, not family. It's definitely not for kids, unless they grow up of course.
There are a lot more positives to list here. The film is well shot with good production values, due to which it's recommended to catch the film on Blu-ray instead of DVD. The visuals are excellent. The film is never hindered by any songs and the BGM is terrific, especially in the action and dramatic scenes. It has brilliant action, but it also has a riveting drama. Byung-hun Lee is very handsome and a brilliant actor who fits the role. Choi Min-Sik as the villain is a total firecracker. He gives a brilliant performance close to perfection. Other actors do their part well.
Overall, I SAW THE DEVIL is a good action thriller that nevertheless keep you riveted despite of mild editing flaws as the overall film is very gripping. It's recommended for those who like dark action thrillers and without minding the language barrier. I know it's not 100% perfect, but then who gives 100% perfection always? For movie lovers who can see a lot more than just violence and vulgarity, this film is a must watch and definitely thought-provoking. In other words, an action packed thrilling delight!
Was this review helpful to you?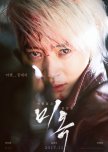 Positives:
- Kim Hye-soo steals the show with her stellar act and excels in some action scenes. Lee Sun-kyun impresses even more with his insanely terrific act.
- The action scenes are decently shot.
- The film is quite entertaining in its last 30 minutes. Some sequences at this time are really very well executed.
- The climax is quite good.
Negatives:
- The film is very slow and the story takes too long to pick up, almost when it's too late.
- Editing is decent at 90 minutes, but it could've been edited even more as the first 30 minutes are a complete washout. Character development takes too long and the slow beginning was a major reason towards putting this movie on hold for long.
- The film drags in many portions and the action takes too long to happen.
Repeat value: No
A SPECIAL LADY is all gloss but almost no substance. Watch it for some decent action scenes and performances, but don't expect anything special.
Was this review helpful to you?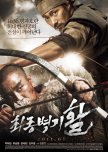 Positives:
- The screenplay is gripping from the very first sequence.
- The action sequences are some of the best ones you would've ever seen in a South Korean action film.
- The visual effects are top notch and other technical aspects too are highly impressive.
- Park Hae-il delivers the best performance out of all, while Ryu Seung-ryong too is impressive as others.
- The editing is absolutely perfect.
- The film has no vulgarity or obscenity and can be seen with the whole family.
- The tension during archery sequences is very well built.
- The film has a lot of crowdpleasing and clapworthy moments.
Negatives:
- Nil.
Repeat value: Yes
WAR OF THE ARROWS is simply and definitely the best period action film I've seen from South Korea.
Was this review helpful to you?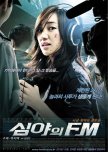 Positives:
- The biggest strength of MIDNIGHT FM is its watertight, gripping and edge of the seat thrilling, suspenseful screenplay. Tension remains throughout the entire film.
- Soo Ae's performance is excellent, as is that of Yoo Ji-tae. But it's Ma Dong-seok who steals the show with his innocent and lovable act. The child artist also did a commendable job.
- The action sequences have been masterfully executed and are a definite treat to watch.
- The editing is excellent, and the film's grip never loosens.
- The climax is excellent.
Negatives:
- Nil.
Repeat value: Yes
MIDNIGHT FM is a mindblowing action thriller which must be seen at any cost!
Was this review helpful to you?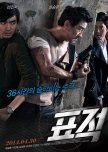 Positives:
- The performances of all actors are excellent, especially Ryu Seung-ryong. He impresses big time as an action hero.
- The background score with which the film opens and ends is very thrilling.
- The screenplay is excellent and grips you right from the first scene.
- The action scenes are decently executed.
- The twists and turns are very well woven into the film.
- The editing is excellent.
- The technical aspects are top notch.
Negatives:
-Well, nothing much.
Repeat value: Yes
THE TARGET is a highly impressive action thriller which hits the target, point blank.
Was this review helpful to you?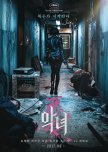 THE VILLAINESS has become quite popular among action buffs. Myself being one, I decided to watch this film and today, having watched it, I feel it's really an impactful film. Director Byung-gil Jung has not just relied on visuals and action but also on a decent storyline to make a good film. Even though the drama's a little overdone in many portions, the film's overall impact is quite a good one and can't be ignored.
Kim OK-bin is the soul of THE VILLAINESS. Her performance is mindblowing and highly impressive in certain sequences. Shin Ha-kyun is terrific, and he's impressive throughout the duration he's given. Rest of the cast is also decent and their performances prove an asset to the film.
The unfolding is what needs to be appreciated. The film's impact in the first few minutes is praiseworthy. The film however slows down in certain portions, but it's the action which hardly lets you down. It's extremely excellent, and a major reason why this film works big time. The visuals are excellent, as is the cinematography. Some of the thrills are really very impressive.
THE VILLAINESS is a solid action entertainer which works for the most part and impresses even an average action lover. It's really a top class action film with some of the best action sequences in a South Korean film, even though it doesn't come close to some classic South Korean action films like NO TEARS FOR THE DEAD.
Was this review helpful to you?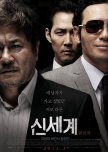 A great thing is that most of the South Korean films I've watched turned out to be good. But the bad thing is that this film is the only one which isn't good. NEW WORLD, seeming to be extremely amazing from the promos, synopsis and IMDb rating, turns out to be a major downer despite of a great performance from the seasoned actor Choi Min-sik. The other lead characters simply overdo their parts. The film is supported by good music, visuals and a handful of action, but is let down by a poorly executed story and screenplay.
The biggest problem with NEW WORLD is that it chooses the melodramatic way of telling a story which needed a faster pace and sharper execution. The first hour of the film is totally wasted in setting up characters which don't seem to be impressive. And they unfortunately turn out to be the lead characters. Despite of a lot of time being given in character development, one of the lead characters looks simply underdeveloped. The film, which I was expecting to be a solid one, turned out to be a disappointment because it didn't stay true to the genre it was expected to stay to. It's a crime drama, but as it progresses, it turns out to be a "crime melodrama" instead.
Choi Min-sik is the saving grace of this film. And only he is. Hwang Jung-min disappoints. Lee Jung-jae doesn't show any other expression other than the one he sports. Park Sung-Woong was a total surprise package as he performed very well. But sadly, his character isn't well written and neither does he get a proper scope to perform. Others actors too are disappointing.
The story and screenplay both seem to be poorly written and after a point of time, the film turns into a yawnfest. The film fails to evoke or convey any emotion. It's indeed hard to figure out what is being tried to convey with this film. The first hour being totally bland makes you lose interest even when the second hour seems to get a little back on track. But sadly, it never actually gets back on track. The moment you feel it's suddenly back on track, it just gets derailed with the next shot. In other words, the editing is another major negative point of the film as it's too slow paced to engage you. Many portions are overlong, especially the pre-climactic episode, and they generate no tension at all.
But I mustn't forget to praise the cinematography, music and one well choreographed action scene. But these are the only things one will remember. For a full time watch, NEW WORLD doesn't seem to be a right film.
South Korean films never disappointed me so getting disappointed with this one is something I didn't expect at all. Don't think I don't like drama films. I do like intense dramas apart from action and thriller films. But this film seems to be having almost no intensity at all.
Still, I must say I have no "new word" for NEW WORLD to describe it as something more than bad. I am not saying that don't watch it. Watching it depends on you, and not watching too. Just note that the film lacks the kick of action films, the intelligence of crime films, emotion of drama films and the edge of the seat sharpness of thriller films. Instead, watch Lee Byung-hun's INSIDE MEN: an excellent film of the same genre which is both far longer and million times better than this "world" of 135 minutes.
Was this review helpful to you?