The website is currently undergoing maintenance. Sorry for the inconvenience.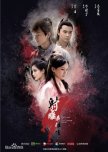 I have previously watched two other adaptions of The Legend Of Condor Heroes, 2003 and 2008. I think the current 2017 LOCH is probably the best among the 21st century ones.
I haven't read the book, yet (going to read), but I think this adaption covered the story pretty well, while also being humorous. Personally I think they did quite good job in choosing the cast. The main characters don't look too out of age thanks to the (rather) young rookie actors, reminding here that Huang Rong is supposed to be 15yo at the start of the series and Guo Jing 17-18(?). I had a lot of prejudice about the actors but after watching the series I can say that the casting was quite nice! Loved Li Yi Tong's Huang Rong, and Michael Miu's Huang Yao Shi. Guo Jing was also definitely more handsome than the previous ones. These two rookie actors did remarkable job imo.
I think this adaption concentrates maybe more on the youth of Guo Jing and Huang Rong, going more through their relationship. Of course LOCH was always about the adolescent of Guo Jin and how he became a big hero from a naive youngster after many hardships, but I do think that 2017 definitely put a lot time to show the pure "innocent" love between Guo Jing and Huang Rong.
Now for the bad points. Like the other review, I also have to say that this adaptions Mu Nianci was little bit disappointment, just lacked something. Personally I also disliked the bad CGI. It was tolerable but at some scenes it just looked ridiculously bad. E.G the condor shooting part. Would've appreciated if they had at least tried to make the angles right, there were some landscapes outside the window that were so crooked.
What I missed was a proper opening theme song. 2003 adaption's opening was epic, this time it was only instrumental music. But again, I did like the soundtrack songs.
Overall, very nice adaption.
Was this review helpful to you?