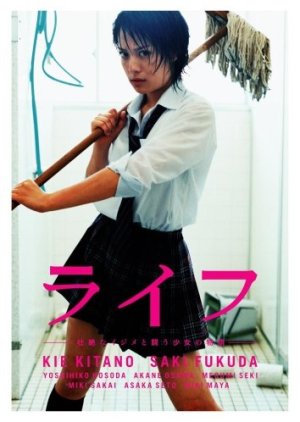 This review may contain spoilers
LIFE is based on a very common yet relavant theme of bullying. The drama had a lot of slightly frightening scenes but it was executed very well n the series is definitely worth a watch.

STORY 8.5/10 : The plot is kinda known n by no means anything new or innovative but still it was able to shine. I felt the thrill in the series n also there were a couple of unexpected developments making it fairly interesting. However I felt some scenes were a bit exaggerated #i havent seen a great degree of bullying in real life so that might be the reason as well.

ACTING/CAST 9/10 : The casts were not flawless but they were well acted. AYUMU'S n ANZAI'S ROLE are worth mentioning but the role that caught my eye was that of KATSUMI-KUN. YOSHIHIKO-SAN did a mind blowing job depicting his craze. His scenes gave me goosebumps - the way he glared AYUMU was frightening like a true freak. I was slightly terrified at the scene where AYUMU was abused. So this 9 goes specially for KATSUMI.

MUSIC 8.5/10 : Music was well used in his drama. The picture was more thrilling n exhilarating bcoz of the good music accompaniment. It brought a feeling of excitement n sometimes of pity for the victim.

REWATCH VALUE 6/10 : I believe this is a series where the actual value of the product would reduce if u rewatch. U won't have the same excitement n thrills as compared to the first time u watch.

OVERALL 8.5/10 : I loved this drama - it depicted both the bullies n those bullied as victims of the society. Even the bullies suffered from one thing or the other n in turn vented their stress on others. Though this is no excuse to resort to such actions i could symphathize with them to a certain extend. It also gave a very good example of forgiveness as well. ANZAI bullied AYUMU through the whole series but still AYUMU decided to help her n stood up against ANZAI being bullied. A truly noteworthy last scene indeed.
Was this review helpful to you?