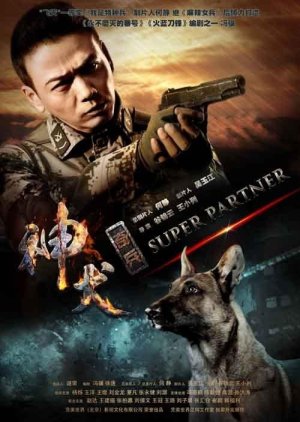 This review may contain spoilers
This drama is very sad and funny. This drama is about war and I thought this was going to be boring but instead it wasn't. It talks about a military man and a dog. The military man was a chef and the dog was used to fight against other dogs. The dog was used for gambling. The military people came and then there was a big fight. Some people died and dogs got hurt. But because of the chefs four gamblers we're arrested/dead. However some gamblers drove away. This was where the chef met the dog. The main lead Gou You Dong got turned from a chef to a military man that trains dogs to work with them. He meets a lot of people and the dog he found was now his military dog. Later on because the dog got captured again and Gou You Dong tried to find him they met the female lead Jin Feng Huang. She was strict and mean at first but then when she saw the dog she got very happy. She was the owner of the dog before the dog got captured at the start. Jin Feng Huang and Gou You Dong kept on fighting who the dog's owner is and what the dog's name was. There was a bad guy that pretended to be a photographer that likes to take photos of nature. The dog sensed the danger and bit the photographer. Jin Feng Huang saw and she bandaged the wound of the photographer. The photographer pretended to like Jin Feng Huang. The photographer kept on taking pictures of Jin Feng Huang. I was like STALKER! At the start she fell for the photographer but because Gou You Dong started living at Jin Feng Huang she stopped falling in love with the photographer and instead fell in love with Gou You Dong. One day there was a big fire in the forest near Jin Feng Huang's home. The military men and Jin Feng Huang went to the forest where Jin Feng Huang's house was. They saw two military men with bombs and the photographer with the button. Jin Feng Huang got so mad. The photographer was about to press the button until Gou You Dong raised up his hands and said that he will help the photographer. Afterward, they put the bomb on Gou You Dong. When the bad guys left they threw Gou You Dong off the car. Gou You Dong had to go back to the military and Jin Feng Huang got sad. Do you think they will have a happy ending? I thought so too and then I watched the next episode. She died. What will Gou You Dong now do? Will he get revenge?
Was this review helpful to you?