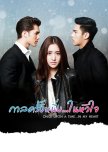 I wasn't sure going into this drama what I should expect. The overall acting was good. The heroine's acting on the other hand was mediocre. I was luckily able to ignore her okay performance by focusing on the main story plot that drew me in from the start. I haven't been able to come up with a comparison for this drama so as for originality I couldn't decide between an 8.5 or a 9. Once I started episode 1 I couldn't stop and ended up binge watching till the end of episode 12.
I was fast forwarding thru some parts and some of those scenes were parts I didn't feel like I would miss anything from. When it came time for the ending of episode 12 I can say it was bittersweet I didn't want it to end but at the same time I'm glad the ending had the right amount of sadness and happiness (if that makes sense). I find that stories that end with all the characters problems becoming resolved is a cliche. I was hesitant to start this drama specifically if it was going to have cliches in it throughout all the episodes (I was in the mood for a drama without the overwhelming cliches taking over the plot) I'm happy to say the ending was not one I was expecting but I overall enjoyed!
So glad I started this drama! :) I need more recs like this one ??
Was this review helpful to you?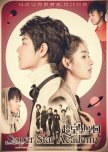 I've watched my fair share of bad dramas, but this was just the worst! The plot was terrible, as well as the acting. Each episode consists of a 22 minute runtime and after finishing the end of episode 4 I regret having continued past the second.
Like most dramas you get a gist of a shows originality and likability within the first 2 episodes. This had neither for me. If you're into dramas with a supernatural/school/romance and action type of genre, I recommend watching Moorim School (on KissAsian) first, I watched the entirety of that series and it was good but not to the point of wanting to rewatch.
I'm not sure how Super Star academy obtained the reviews it did with its lackluster acting, plot, and show effects, but to each their own.
I've made the mistake missing out on dramas sooner because I was too focused on the reviews. I recommend if you're on here looking through the reviews before watching, give a try. Each person has their own opinion and if you like it great, if not then I feel your pain.
Was this review helpful to you?