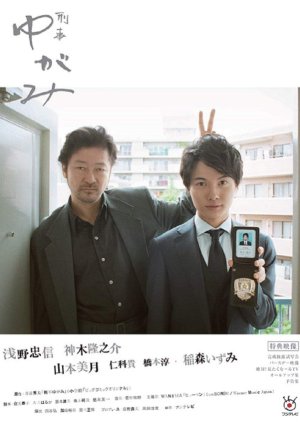 I had a fun time watching this drama because the characters were  excellent and the cases were all engaging. I think it is hard to find  mystery drama where both aspects are strong. In many ways, "Keiji Yugami" reminded me of "Legal High":

1. the opening sequence: each episode has a different sequence, but they  are all about the same thing: YUgami and Hanyu kicking/punching each  other. They were all awesome XD and they all left me with a smile on my  face.

2. Yugami as the senior cop, is childish and doesn't  follow rules. In fact, he sometimes breaks the law (for example, he  unlocks doors and safety cases with his pin). He doesn't play "dirty" as  Komikado-sensei, but he is always right.

3. Hanyu, as the rookie cop, is more emotional but also sticks to the rules. He disapproves Yugami's methods to find the truth, but deep down, he admires and respects Yugami (like Gakky).

4. Yugami has his own "hacker" who is a big help in all his cases. Not like Komikado's "ninja", but similar.

Yugami  is less "funny" and less "eccentric" than Komikado-sensei, but he was a  good character, which could be because he was played by the awesome Asano Tadanobu. Actually, the whole cast was good. You could tell that they had a great time working together.

I  love all the guests stars. Most of them A-Stars. This was one of the  highlights of the drama (I was waiting for a certain actor, who acts for  a couple of episodes). And all cases were excellent! Not so much of the  "whodunit" but "why" (like most of Japanese mysteries). And most of the  time, like 90% of them, the murderer/criminal had a sad story and you  can't help but feel sorry for them :( There were cases that made me feel  sad for the criminal.

For mystery lovers that are looking for cases not so gloomy, this one is perfect to watch.
Was this review helpful to you?