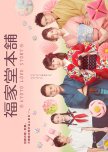 I enjoyed this drama for the most part. The story of 3 sisters who are part of a historic family owned traditional sweet shop and the dilemma of which one would marry and take over the shop from their mother. It's a lot of pressure and expectation placed on all 3 girls even the youngest who is in jr. high. I think this drama gives us good insight into the scenic beauty and architecture of Kyoto, Japanese traditions ( we got a kabuki performance, tea ceremonies, flower arranging, geikos, caligraphy, food preparation etc.) and the importance and traditional symbolism of marriage in that culture. In the modern era, there is a push against such cultural traditions and that is well explored in the middle daughter Arare. Her relationship with her loving but authoritative mom is examined well. One of the things I loved the most is all the beautiful kimonos and yukatas worn throughout this drama by both male and female characters.
Of the three love stories being told my favorite was Arare and Kenji. I think their love story was well fleshed out. The chemistry between the actors is very much apparent and well acted even when they are arguing. Theirs was the most natural/realistic love story. I just wish there was more physical intimacy ( holding hands, kissing, etc.... my major gripe with J-dramas in general). Hana and Tomo's story was not well explored at all because when he moved away he didn't respond to her letters until the end. This was the love story I wanted to see develop the most but it was cut short before it even got to take off. There was the missed opportunity to show a teenage long distance romance in Japan but ...oh well... As a result, their end just wasn't satisfying or realistic. The worst, unexplained, unfathomable love story is between Hina and Hinoyama. The whole weird dynamic between him, his 'sister' and his mother should have been enough to send her running for the hills. I didn't believe she loved him or wanted to be with him nor did I believe he truly cared for her at any point in their story so their end result is just bizarre to me. The only other issue I have with this drama is its pacing. It is a bit slow through out. I imagine that a lot of people would get bored as a result and not give this drama a fair shot. Regardless it's a watchable/enjoyable drama.
Was this review helpful to you?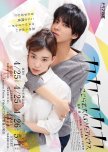 I will start by saying I weirdly enjoyed this drama. Maybe the reason is that it's rare to see a J-drama revolve around sex. Also you don't see a lot of kissing in J-dramas and this one has quite a bit of touchy kissy adult content. The cast was beautiful but there could be improvements in the acting particularly Nakamura Rissa. I enjoyed the theme song and I want it on my play list.
Now onto the not so good. The story and character development were the main problems. The lead character Terada-san's indecisiveness got on my nerves. Hongyo-san also annoyed me with his hopelessness and dependency on everyone around him. I said kimochi warui 気持ち悪い several times when he was on screen and especially with his interactions with Terada when they were alone. I was perplexed as to why she would agree to enter into this type of relationship with him given the back story of their relationship in Jr high. You felt used back then so you're going to sign yourself up to be used again now. HUH?! I also thought Hase-san was creepy in his interactions with Terada. His reasons for his proposal are absurd. And Kuritani only wanted Terada around because she cooked and cleaned. There is a thin line between being/feeling needed by others and being used and Terada-san seems like a woman with low self-esteem who trying to find herself by allowing every other character on the show to use her. It's hard to root for her when I want to shake her so badly and yell "WTF are you doing with yourself?!" Though the characters worked out their feelings by the end I don't feel like anything was resolved or improved on. At the end I just asked myself WTF did I just binge? What was the point of this?
Was this review helpful to you?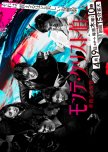 The cast is phenomenal. I ♥ Dean Fujioka even more after this performance. This drama diverts from the source material but I still think that fans of the book or other adaptions will find it enjoyable as well. I thoroughly enjoyed this drama up until the last act of episode 9. I didn't like the last decisions Shinkai-san made regarding his enemies and his revenge plot. His end was also ambiguous and I would have preferred to know exactly what happened to him at least in an end note of what his future entailed. Other than that, I say it's worth a watch and I will probably rewatch this one day.
Was this review helpful to you?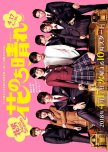 I liked it but if I compare it to Hana Yori Dango the story is nowhere near as good. I know I should judge it on it's own merits but I can't. I didn't have the same kind of feelings for the Oto as I did for Makino. She starts out rich and spoiled but due to change in fortune she is now poor but still betrothed to her childhood friend Tenma. There isn't anything in the character or her story that really makes me want to root for her. The rival school storyline isn't very interesting. And most or worst of all Haruto is even dumber than Domiyoji. I was mostly happy to see Hanazawa Rui (Oguri Shun) make an appearance. I hated that there were scenes with Domiyoji but they only showed him from the back and used audio that I assume is from the original. If they couldn't get Matsujun in the drama I feel like it would have been better without the from behind shots of the Matsujun stand-in.
Was this review helpful to you?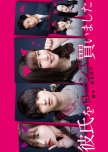 Strongly dislike the attitudes of the women in this drama. While it wants to come across as cute most of the characters' (both male and female) attitudes to gender roles are set in antiquated and backward thinking. If a woman wants to be a housewife managing her home and taking care of her family there is nothing wrong with that but the reasoning of the women in this drama are nonsensically and erroneously based on gender roles in the animal kingdom. It's so stupid the way they cross-talk about different species of animals, using how animals interact as mates and parents as metaphors for how human gendered, romantic, sexual and familiar relationship ought to be. Also, the lead and her mentor are both verbally and physically abusive to their loan boyfriends. Her mentor is a terrible person and mother for denying her son a relationship with his father in the manner and reasoning that she does. In many ways, the themes portrayed are unacceptable in the modern world.
Was this review helpful to you?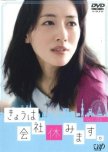 While I enjoyed this drama I did not find it very believable. I will start the stuff I liked.
The drama had a lot of comedic moments and humor. Mamorou was a hit for me and made me want to have such an emotionally in tuned pet. The relationships in this drama were very cute- between the lead couple, Asou-san and Hanae-san, Hanae and her family and friends and even the work relations. I liked the relationship between the leads Tanokura and Hanae in the beginning. This drama did a good job of showing how complicated work can become when you date a co worker. It also shows a bit of how single women are viewed after the age of 30 in Japan. I had no issues with the age gap of the couple. In fact i don't think that it's huge at all. The cast was well picked and the acting was well done for the most part. And Tanokura isn't hard on the eyes either.
Now the stuff I didn't like.
I was unable to buy that any adult female in the age of information and technology could be as ignorant of men, sex, intimacy and love as this lead female Hanae-san is presented to be. Tanokura seemed a bit mature for his age, at times much more mature than Hanae. Even though they were cute, at times the chemistry just wasn't there, it seemed forced and sometimes even like they weren't trying hard enough. The kissing left a lot to be desired but that is the norm in Jdramas. There was more chemistry between Asou-san and Hanae than Hanae and Tanokura. Which was probably the point to push the love triangle but this angle while there was potential was poorly executed.
By the end Hanae had started to annoy me. I was glad that she made the decision that she did in episode 9. That was one of the few believable things done in this drama but the progress made in episode 9 was undone in the last episode. The time frame in which this drama takes place, 3 months give or take, is not enough for all the proposals that are made by the end of the drama. The story by the end feels rushed and incomplete. Too much happens in the last episode that is not properly addressed or explained. This drama could have used several more episodes to give all the relationships proper resolutions and plug some of the holes left in this drama.
So to sum up I think this drama was cute, the concept was fresh with a lot of potential however due to poor writing and execution and lack of chemistry it wasn't able to be as good as it could have been.
Was this review helpful to you?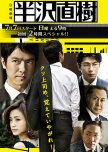 This drama is outstanding. I initially did not intend to watch this drama after reading the synopsis. Mostly because of my experience working in 3 different banks. I figured this would be nothing new and bank work is the most boring thing ever so i couldn't imagine how this drama could be good. Then one Saturday when I had nothing to do I gave this drama a shot and I was proven wrong on all my preconceived notions.
The world of banking portrayed in this drama is one of deception and treachery. Bankers don't care about their customers or even the integrity of the their banking institutions; they seek only to improve their positions by manipulation and betrayal. The senior banking officers make bad decisions and their underlings have to clean up the mess or risk demotion or even worse relocation.
In walks Hanzawa Naoki. A brilliant banker who cares about his customers, his bank and his friends. He is thrown under the bus by his boss and must clean up the mess or get transferred. There are so many hurdles in his way but Hanzawa is a fighter. His catch phrase, "If you screw me, I'll screw back. Double payback!" It was exciting to see him get fired up in these situations.
The story was a bit predictable but it was so well told that I don't mind that at all. The acting was astounding with the exception of the guy who played the inspector from the tax bureau (gross over actor) and the only thing about the drama that i didn't like really. Sakai-san was in one word SUPERB; the best actor overall in the cast. I wish we got more of Ueno Aya but what we got from her was great. She played the role of the strong dedicated wife well.
I live in Japan and people can't seem to stop talking about this drama. It is one of, if not the best drama for 2013. It is a must watch for jdrama fans. And with Hanzawa's tenacity, the fan love and the way this drama ended I fully anticipate a season 2. Hopefully we will get it next summer.
Was this review helpful to you?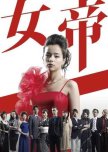 Jotei
5 people found this review helpful
I loved-hated the drama. The acting especially the early epis left a lot to be desired from most of the cast. Shota was awesome as always (no I'm not being biased he really was the best actor) and he has the sexiest hair in this drama. Shota's character Noato was probably the most complex character in this drama. Although the acting could have been better the overall story saved this drama and kept me marathoning through the episodes.
This drama also gave me some insight into Japanese night life. It taught me that host clubs are like reverse escort services. Escorts go to the customers to entertain them but at host clubs the customers come to the host for the same type of entertainment and this big business and a lot of money. It is also the selling of the human body. And if the host does not know what he or she is doing it can mean a lot of trouble like the main character Ayaka-chan learns.
The lead actress Kato Rosa is gorgeous. I really was interested in every obstacle that came Ayaka-chan's way and how she was able to over come everything and keep going. The relationship between Ayaka-chan and Naoto-kun is not the typical romance story and it was part of what made this drama unique. This drama is a tragedy about triumph. It is a mature drama that probably won't appeal to some people who don't like adult themes such as violence, sexual abuse and prostition.
My main gripe as I mentioned was the acting. The horrible villainous laugh of Hojo Rina-san was too much to bear at times and the actress's acting was equally as terrible and disappointing. Most of the bad girls were just horribly played. Some parts of the story were not very believable either especially the initial interactions (epis 1 and 2) between the lead love interests but I was able to quickly put that aside to follow the rest of the story which flowed well.
This is also not a typical drama that takes place over a few weeks. this story encompasses many years of these characters lives to show the struggle they go through to achieve their ambitions. The jumps through time are done well and the characters all seem to mature and age in their looks as well as demeanor appropriately. I did not want it to end the way it did but it's kinda fitting ending to everything.
Was this review helpful to you?